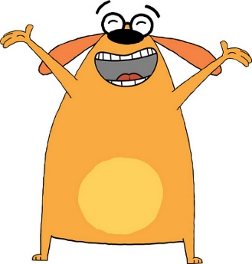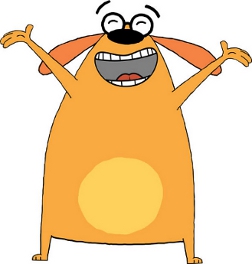 "Augmented Reality" (AR) is a concept described as an extension of Virtual Reality that blends both real-world and computer generated images. In this way, a user can interface with computer generated objects through the use of real-world objects coded so a computer can recognize and enable the interaction. Examples of AR are presently available on modern-day gaming platforms through the use of the Nintendo 3Ds, PlayStation 3 EYE and the XBOX Kinect. These applications are generally aimed at an older audience in the range of 12 years and up.
Last week, PBS Kids offered an AR game titled Fetch! Lunch Rush in the iTunes app store for select iOS devices (iPad 2, iPod Touch 4th gen and iPhones, likely 3GS models and up). After installing the app, an adult needs to print out a few pages containing the ten coded cards needed to help bridge the gap between reality and the computer generated environment.
Fetch! Lunch Rush features the host character Ruff Ruffman from the PBS Kids series "FETCH! with Ruff Ruffman" and puts the user in a situation where they must put together sushi orders for hungry cast members. Children are instructed to spread the cards around the room to help simulate the stress of a sushi chef catering to the demands of hungry cast members. In order to complete an order, the child is instructed to solve an equation by putting the card with the proper answer in the view of the iOS device. When located, the app will read the code on the card and overlay the number of sushi pieces corresponding to the number on the card.
The answer to the equations will be a number from one to ten. My second-grade son completed the whole game rather quickly. The progression of levels range from simple "1 + 4 = ?" type equations to the algebraic "1 + ? = 5" format, which presents a nice challenge.
Unlike other learning games on computer devices, my son had a blast with this game. While the game itself is rather short, the price was also low (as in, "free"). Based on his enthusiasm to play, I hope we see more educational games using this sort of technology, as well as the genre branching out to other smartphone platforms such as Android.