Please Note: This review of the demo/prototype game might change slightly based on the success of the Kickstarter campaign. The game is being reviewed on the components and the rules provided with the understanding that "what you see is not what you might get" when the game is published. If you like what you read and want to learn more, we encourage you to visit the game's web page.
---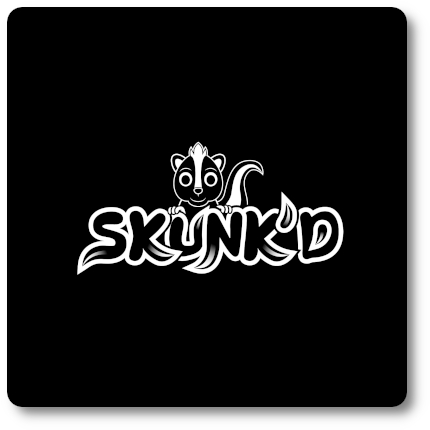 The Basics:
For two or more players
For ages 10 and up
Variable game play length
Geek Skills:
Counting & Math
Logical & Critical Decision Making
Risk vs. Reward
Learning Curve:
Child – Easy
Adult – Easy
Theme & Narrative:
Roll the dice and take a chance to score big or end up being a smelly loser
Endorsements:
Gamer Geek rejected!
Parent Geek approved!
Child Geek approved!
Overview
Every family has a "family game." One that they either created themselves from scratch or taken from another game. Either way, the results are something familiar enough to easily allow anyone to learn how to play and unique enough to be a particular part of a family's collective memory. This game does just that by taking a tried and true game many have played and adding a personal touch passed down through generations. And like all loved things, they only become more significant and grow when shared with others.
SKUNK'D, designed by the Johnson Family and to be published by SKUNK'D Games, will reportedly be comprised of six custom six-sided dice, an unspecified number of score sheets (which will be available to download and print), and a rule book. While it should be no surprise that the game comes with said rule book, it's worth noting because it has many different ways to play beyond the standard game, as you will soon learn. As this is a prepublished game, I cannot comment on the game's comment quality. The provided dice are excellent and represent, as near as possible, the final dice to be released in the game.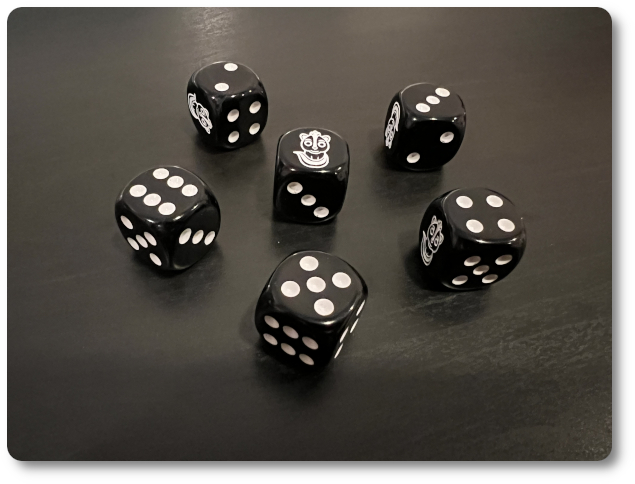 Setting Up the Game, Standard Play, and Winning
SKUNK'D is exceptionally easy to set up and, consequently, to get to the table. You only need six dice, a scoring pad, something to write with, and time to enjoy the game. Everyone should sit around a table, but any flat surface should do.
Once everyone is gathered to play, the first portion of the game involves all the players taking turns. On a player's turn, they take the six dice and roll them as many times as possible to score a set number of points.
The dice score player points based on the results. A "Skunk" (or the "one" value in this case) gives the player 100 points. Three-of-a-kind will give the player anywhere from 200 to 1,000 points (depending on the number rolled). Players can also roll four-of-a-kind and five-of-a-kind for additional points. There are, in fact, several different roles and combinations the players can use, which are all described in the game rule book. This also includes our group's favorite, the "Infinity," which requires a player to roll a sequential value from "six" to "Sunk" (or six, five, four, three, two, and one). It's a rare roll, but you automatically win the game if you manage it.
Regardless of what is rolled, a player must score, at minimum, 500 points to "get on the board," which is a fancy way of saying "to start counting points." The complexity here comes from always needing to take one of the dice per roll and placing it off to the side in the player's "Den." Once all the dice are in the player's Den, they take them and keep rolling.
A player's turn ends one of two different ways. Either by volunteering to stop their turn and record their points (having made the minimum of 500 points), or they cannot score any points in their current roll. Failure to roll a scoring grouping of dice means the player has "SKUNK'D" and their turn ends with no points scored.
After a person skunks themselves or ends their turn to record points, the dice are passed to the next player. This new player now tries to make as many points as possible using the above-mentioned rules. And around and around you go.
The end game is triggered when one player has scored 10,000 points (or whatever the needed number of points to win, as determined by the group before play). At this point, everyone continues to play, but they must consistently beat the current highest score on their turn. Failure to do so means they are out of the game. Turns continue until there is only one player left who is declared the winner.
Going Beyond the Norm
SKUNK'D comes pre-loaded with many different ways to score points. The standard scoring of number pairs, runs, and combinations is more than enough for most players. Those looking to amp up their game with new variations are provided many alternatives under the heading "Slightly Silly" and "Devoid of Reason." The rules not only address new ways to score the dice but also ways to play. For example, some rules require players to wear a dunce cap (any silly hat or thing placed on their head – including a cooking pot) when they skunk until another person skunks out. At this point, the hat – or pan – is passed.
To learn more about SKUNK'D, including updates on when the game will be fully released and rules, visit the game's web page.
Final Word

The Child Geeks enjoyed the game, finding it fast and easy to get excited about. Their biggest hurdle was the math, which almost always required a parent or older sibling to assist. We are talking big numbers that need to be added up, which can take some time. Calculators come in handy here, or a lot of scratch paper to record points and add them up longhand. When not crunching numbers, the Child Geeks shared their thoughts. One Child Geek said, "I like how fast the game is and how exciting each roll is. You have to be willing to push your luck, or you will get behind, but I don't like it when I don't score any points and get skunked." Another Child Geek said, "The dice sometimes don't like me, and I don't like them most of the time, but when they do their job and score big points for me, I like them a lot. I like this game also." Man, I love how Child Geeks record their thoughts. When the last dice were rolled, the Child Geeks took a vote and found SKUNK'D was a pretty sweet game.

All the Parent Geeks who played SKUNK'D always asked me after I explained the rules, "So, this is Farkle?" We'll talk about this in a moment, but as a result of SKUNK'D being very similar to another very popular game all of our Parent Geeks have played, they had no problem jumping in and playing the game. One Parent Geek said, "Oh, man, I forgot how much fun this game is. I played it as a kid and at college. I think a little into my late 20's, too. It's a great game to get to the table and play anywhere." Another Parent Geek said, "Oh, sure, I remember this game. I played it as a kid and played a similar game during the summer when we went camping as a family. It's easy to learn and fun to play. It also challenges players to do math and be social. Two skills I am always looking to strengthen in my children." When the last skunk was chased away, the Parent Geeks looked about, took a vote, and all agreed that SKUNK'D was a good time.

The Gamer Geeks were not enamored. Since SKUNK'D was so close to previous games they played, they immediately gave it a pass. It was only after I insisted they play the game a few times or I wouldn't give them any of my beloved seven-layer dip to eat they relented to play. Their comments on the game were not as tasty as my dip, as you can imagine. One Gamer Geek said, "I think the background of the game's origins is sweet, and I understand this being a family favorite. But it certainly isn't mine, and I don't much care for games that are obvious other games with a few personal touches." At this point, I couldn't tell if the Gamer Geek was commenting on the game or my seven-layer dip recipe that I did not copy from the internet. Another Gamer Geek said, "It's a standard and very old-school push-your-luck dice game. It's roll and then roll again or don't over and over and over. Games that are luck-based and then choosing based on how much courage you have or lack of intelligence isn't my bag." When the final vote came in, none of the Gamer Geeks approved SKUNK'D.

All but my youngest players called this game out right from the start, remarking how similar it was to the published game Farkle. The number of similarities in the game is too many to count. However, SKUNK'D diverges and creates its own space with its many different ways of scoring and different ways to play. For some, that will be more than enough to purchase SKUNK'D for their gaming pleasure.
To be fair to SKUNK'D and the family looking to publish it, there are many Farkle derivatives, including Zombie Farkle and Dragon Farkle. The original push-your-luck game that became Farkle has existed since the 1930s (source). There is nothing wrong about taking a tried and true game and making it into a family classic. Hell, we do that all the time with Monopoly. I challenge readers to prove they have played Monopoly using the standard rules. Every family has its take, and SKUNK'D is a brilliant example.
For my part, I enjoyed the game. I fully understand and respect where the Gamer Geeks are coming from, but it always comes down to one question: Am I having fun? And fun I had. Playing SKUNK'D reminded me of my younger years with my brothers and later with girlfriends and friends in college, followed by my children when they were very young. But I had not played a game like SKUNK'D in many years, and the return to this simplistic approach to engaging a game and those who played it pleased me.
For you, it might be the same, or, per the game's play and description, it might be too close to another fond game in your memory or collection to even warrant a second look. Regardless, SKUNK'D delivered fun to a significant number of our groups. Perhaps you will be one of the lucky ones, as well, to sit down and enjoy this game with family and friends. SKUNK'D indeed doesn't stink.
This is a paid-for review of the game's final prototype. Although our time and focus were financially compensated, our words are ours. We'd need at least 10 million dollars before saying what others wanted. Such is Father Geek's statuesque and legendary integrity, which cannot be bought except by those who own their private islands and small countries.