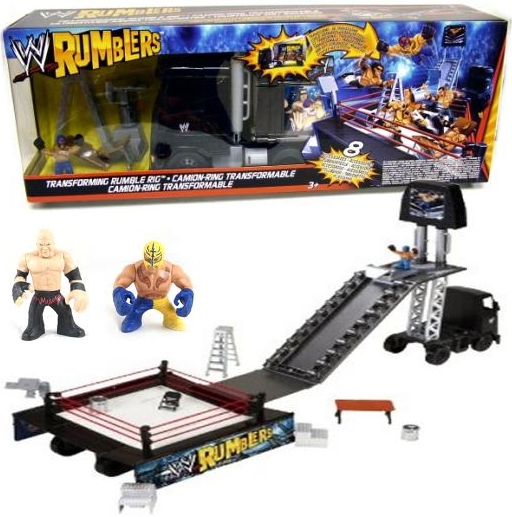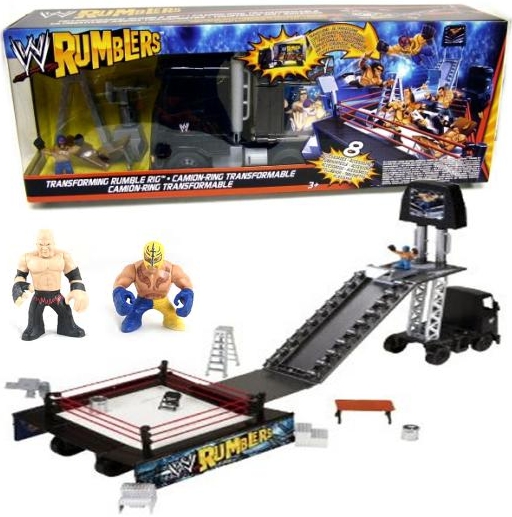 The Basics:
For ages 2 and up (manufacturer suggests 3+)
For 1 or more players
Geek Skills
Theme & Narrative
Micro, over the top, exaggerated 2″ to 4″ tall WWE Superstars with a transforming truck!
Endorsements:
Gamer Geek N/A
Parent Geek approved!
Child Geek approved!
Overview
Get down on the floor with your little geeks and get ready to have some fun with the super small WWE Rumblers! These super stylized action figures have exaggerated poses and embody the most over the top characteristics of the WWE Superstar they represent. Then get ready to rumble and tumble with the Rumble Rig! A big truck that transforms into a wrestling ring! The life of professional wrestlers seems very exciting…
The WWE Rumbler figures are small enough to fit in your pocket but big enough to not be a choking hazard. There is not much to pose, the figures are all about stance and attitude. The figures are well made and can take a lot of abuse. They come in packs of two allowing for immediate wrestling matches right out of the packaging. These figures are also highly collectible and should be a welcomed addition to any WWE enthusiast.
The WWE Rumble Rig is essentially a mobile wresting ring. The truck is playable as it is, but doesn't really do its job until it is transformed into an action arena complete with trash cans, a ladder, and a breakable table. Also included is a launcher to send the Rumbler figures flying into action. A Rumbler figures also comes with the Rumble Rig allowing your little geeks to start playing with all the wrestling area bits and pieces right away!
Prediction
My two oldest little geeks love action figures. Even though they might not watch WWE at home, they have friends who do. As such, they know more about WWE then I do. The amount of information you can learn from a 7 and 4-year-old is incredible!
When I opened the box to show my little geeks the contents, even my 2-year-old flipped out and danced a jig. It was a neat scene. While I pulled out the toys and started building, I asked my little geeks what they thought.
"AWESOME! I know all about these guys, Dad!" ~ Liam (age 7)

"Really? How?" ~ Me

"Dad! The truck transforms!" ~ Nyhus (age 4)

"Really?" How?" ~ Me
Clearly, I am a bit behind here. But even before they are out of the box, built, and playable these toys are already getting much love! Let's see if this affection lasts once they are in the hands of my little geeks.
Final Word
I don't know the first thing about WWE but I do not know fun and these WWE Rumbler figures and the Rumble Rig are a great deal of fun for both my little geeks and myself to play with. We've entertained ourselves with them a great deal and have even incorporated other toys to help join in wrestling battles on the Rumble Rig. One of the games we play is we imagine the Rumbler figures are a family of traveling heroes who roam the countryside looking to right wrongs. Actually, it's kind of like the A-Team, except with no B.A. Baracus – sadly. Whenever they find a small town (always out in the desert for reasons never fully explained to me), they setup the rig and challenge the "bad guys" who live in the town to a wrestling match. If the heroes win, the bad guys leave town forever freeing the good people who live in the region from whatever tyranny they suffered.
As you can rightly guess, the hero wrestlers always win the battles and the bad guys are sent packing. It is a great deal of fun and other toy greats such as Bumblebee from the Transformers and He-Man from the Masters of the Universe toy lines have made guest appearances. Actually, now that I pause to think about it, my little geeks have created a game with figures from different genres that I would very much like to see as a cartoon.
Hmm… I should pitch this to Warner Brothers…
While my little geeks are ecstatic about the Rumble Rig, I am less impressed. Some of the pieces are a little thin for what I would consider a little geeks toys. I don't think it would take much to break some of the hinges or plastic pieces if just the right amount of pressure was supplied. While this wouldn't be much of a concern for some toys, the WWE Rumblers are meant to be physically active and crash together on the Rumble Rig. The figures are thick, sturdy, and nigh-unbreakable. The Rumble Rig is much less so. I fear it is only a matter of time that something breaks either when transforming the rig or from the battles that occur on it.
What the Rumble Rig does have going for it is an easy transition from truck to wrestling arena royal! My little geeks already know how to change robots to cars, trains, or what else have you, with little to no difficulty. They figured out on their own how to transform the rig and can complete the change in less than a minute, note including area set up.
Parent Geeks, the Rumbler figures are small and easy to pick up toys that you can easily take on car trips, slip into your day bag, or allow your little geeks to put in their pocket to play with their friends on the school bus. They are also very durable and should last a long while. The Rumble Rig is much less durable and less mobile, which is funny considering it has wheels. Expect this to live on the floor of the playroom. It does, however, provide a neat action set for the Rumbler figures and is a great deal of fun to play with.
Child Geeks, you are going to love the Rumbler figures. They are durable and can be dropped, tossed, and slammed together. Since they come in packs of two, you will always have another Rumbler to wrestle with for the title match. The Rumble Rig transforms into a fun wrestling arena, complete with objects that can be thrown into the ring to cause mischief and mayhem. Best of all, there are several points on the Rumble Rig that allow you to launch your Rumbler figures through the air and come crashing down on their opponent!
I am pleased with these toys. Too many times, the toys available on the shelves nowadays have a half-life of about 2 weeks of constant play before they break. The WWE Rumlbers will last a very long time and are even of interest to my 2-year-old. We'll see how long the Rumble Rig lasts, but until it breaks and is discarded, it is getting a good deal of attention.
These toys were given to Father Geek as a review copy. Father Geek was not paid, bribed, wined, dined, or threatened in vain hopes of influencing this review. Such is the statuesque and legendary integrity of Father Geek.