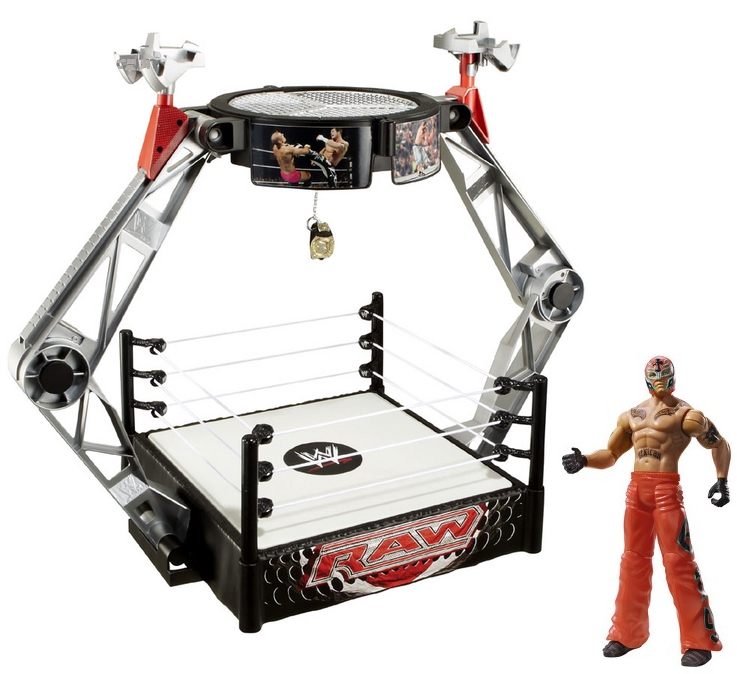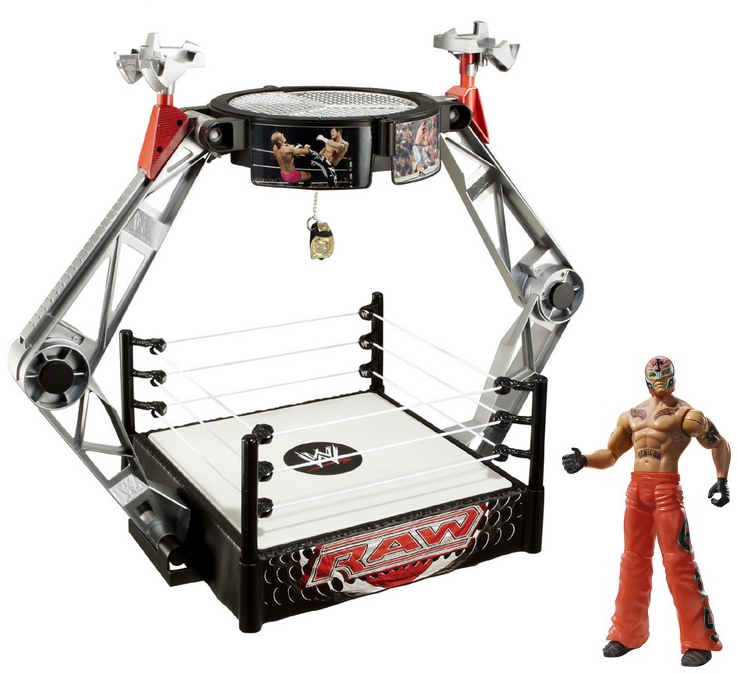 The Basics
For ages 4 and up (manufacturer suggests 6+)
For 1 or more players
Geek Skills
Theme & Narrative
Dive into the action with lifelike WWE Superstars!
Endorsements:
Gamer Geek N/A
Parent Geek approved!
Child Geek approved!
Overview
Recreate your favorite moves with the highly flexible and durable WWE FlexForce superstar action figures! And while you are at it, send them into the Colossal Crashdown Arena for some on and off the ropes action. But we warned! The arena could come smashing down on the wrestlers and end any title matches! Man! Wrestlers have dangerous jobs!
The WWE FlexForce action figures…or are they wrestling figures…are very well sculpted and detailed. Their articulation points (the points where an action figure can be posed and moved) allow you to move and adjust the figures to stand, balance, and clothesline their opponents while they are rumbling for good or evil (whichever side they are fighting for or against). They are also very durable and can take a beating…which is exactly what you'd expect from a toy that is meant to clash, bash, and tumble.
The Colossal Crashdown Arena is the quintessential "romping room" for the WWE FlexForce figures. Complete with flexible ropes, jumping off points, and a dangling title belt just out of reach, it will provide for all your wrestling action figure needs. But this arena has a special surprise! Located at the very top is a breakaway floor! If the wrestling action figure is sent through it, it will trigger the arms of the arena to come crashing down to the floor, sending any hapless wrestling superstars down to the mat below.
Prediction
Nothing to predict here, I'm afraid. It is a given and a forgone conclusion that my little geeks love wrestling figures. I really don't know how it came about as I don't watch the WWE or know the first thing about the WWE. My little geeks, on the other hand (specifically, the 7 and 4-year-old) know the names of some of the bigger superstars and their moves. My wife and I have no real clue where they might have learned this info but we strongly suspect "friends" have schooled our little geeks in the way of professional wrestling. And up to the point where I find them jumping off the couch and slamming chairs over their brother's head, I am all for it. In fact, I'm all for anything that allows my little geeks and I to play and be imaginative.
Yes, I play with these toys, too. And why not? Aren't all adults just big versions of kids? I certainly believe so. Never mind we have jobs and responsibilities, we were those young kids once, too, who played on the floor and spent hours upon hours building, imagining, and having fun. We still can, we just have to schedule the time.
When the box for the Colossal Crashdown Arena and the WWE FlexForce figures came out and were revealed to my little geeks, they went nuts. I should note that we showed these toys to them about a week after we had them play with and test the WWE Rumblers and Rumble Rig. My concern was that they would be burnt out on all these wrestling figures and not give them a good testing which I needed for this review. My concerns were body slammed, however, when they just about tackled me to get to the new toys. Their enthusiasm was just as high and as loud as ever.
So, while I built the arena, all of my little geeks grabbed their other wrestling action figures, and Transformers, and Masters of the Universe, and whatever toys they could quickly find, and joined me at the table where I was working on the construction of the arena. While I built and they played, I asked them what they thought of the new toys.
"I like how much bigger this toy is. The smaller ones didn't move as well." ~ Liam (age 7)

"I like the smaller ones better, Liam!" ~ Nyhus (age 4)
At this point, tongues were presented, pointed at one another, and peace was restored after a stern look from the fatherly figure. While they played and I built, I couldn't help but wonder how all of this was going to go down.
Final Word
Once built, my two oldest boys started playing with the arena but my 4-year-old started to lose interest quickly. He was more interested in the smaller WWE Rumbler figures and the Rumble Rig than the Colossal Crashdown Arena and the bigger WWE FlexForce figure. He gave it a go, though, and seemed to enjoy it, but left after an hour or so with his youngest little brother (2-years-old) to go play with the smaller figures.
His older brother on the other hand, well… let's just say if the house was on fire around him, he'd be the last to realize it. He was totally engrossed in the arena and the action figure to a point I had to tap him on the shoulder to get his attention. When I asked him why he liked it so much, he said he really enjoyed how he could pose the figure and have it do tricks and jumps. He really liked how the arena collapsed down if a figure was sent hurdling through the collapsible flooring located at top. Again and again, he'd have it crash down and reset it to just have it crash down again.
This type of constant action got me concerned because I had a feeling the hinged arms and plastic pieces were not long for this world if my little geek kept slamming them down and then snapping them up. To my surprise and delight, not once did I see a problem with the general abuse the poor toy was receiving. The only effect I saw from all this activity was that the arena tended to crash down easier than it did before when it was fist built. This was actually a bonus as you had to really push down on the trigger to have it fall when it was first built. As it acts today, all it takes is a figure to brush the trigger lightly and down it goes, much to the delight of my little geeks.
Parent Geeks, a word of caution. The arena has some nasty choking parts. Specifically, the rope, which can come off which might be a strangulation or circulation concern for your youngest little geeks. We watched our youngest little geek (age 2) closely with the arena toy and decided we would keep it up in our oldest little geek's room. This allowed the two older geeks to play with it and kept our youngest little geek well out of any possible harms way. The figure, however, is no more threatening or a hazard to your little geek's health than an inflatable beachball. Our 7 and 4-year-old love it, but our 2-year-old showed zero interest. The toys are very durable and should last you and your little geeks a long while, well outlasting their interest in the toys in general.
Child Geeks, GET READY TO RUMBLE!!!! Sorry, had to be said. The action figures and the arena are AWESOME to play with. The figures flip and fly, bounce off the ropes and get thrown out of the ring with easy articulation points and fun poses that hold. The arena is a blast to play with and allows you to recreate famous matches or make up your own. When the match starts to get boring or predictable, bring down the roof with the crashing down arms and make the title belt all the more accessible (and fought for) to the wrestlers after the dust settles.
I still have no idea what the WWE is all about and most likely never will. My little geeks like the wrestling figures and know some of the names, but their interest is only as deep as their general knowledge on the topic. Regardless, it is clear you don't need to know the first thing about who is who or what is what in the WWE to have fun with these toys.
These toys were given to Father Geek as a review copy. Father Geek was not paid, bribed, wined, dined, or threatened in vain hopes of influencing this review. Such is the statuesque and legendary integrity of Father Geek.