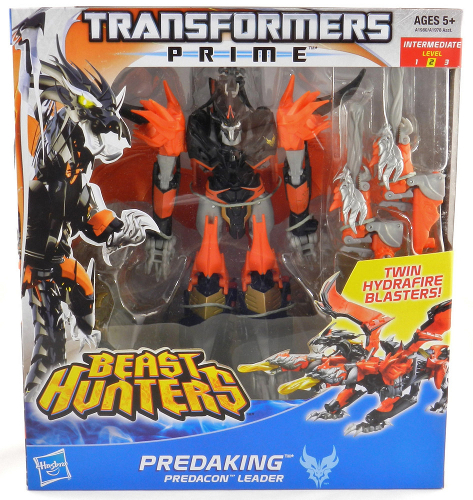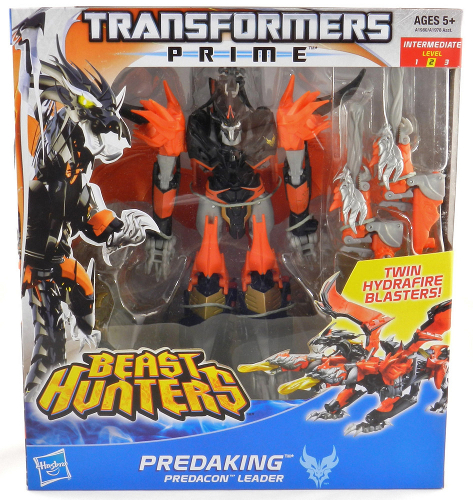 The Basics:
For ages 5 and up
Level 2 complexity
Possible choking hazards
Geek Skills:
Active Listening & Communication
Hand/Eye Coordination & Dexterity
Cooperative & Team Play
Imagination
Learning Curve
Child – Moderate
Adult – Easy
Theme & Narrative:
The newest Decepticon Transformer member is a real beast!
Endorsements:
Gamer Geek not applicable
Parent Geek approved!
Child Geek approved!
Overview
Thought to be extinct and nothing more than Cybertronian legend, the Decepticons have found fossil remains of dragons! Using their technology, they have secured enough fragments to clone the mythical beasts and enlist them into the Decepticon ranks. Now Optimus Prime and his brave Autobots must not only fight the Decepticons, but a living nightmare, as well! The Autobots will never sleep again once Predaking arrives!
Predaking, a 2013 Transformers Prime Beast Hunters Voyager Class release, is comprised of 1 large robot that has two forms – a Robot and Dragon form. Included are three weapons. The first is a tail sword that can be held in the hands of Predaking when in Robot form and becomes the tip of the tail in Dragon form. The second are twin Hydrafire Blasters that resemble two smaller dragon heads that shoot a spring-loaded missile. In Robot form, the Hydrafire Blaster can be held, one in each hand. In Dragon form, the Hydrafire Blasters attach to the left and right shoulders to create a 3-headed dragon. Also included (with the instructions) is a portion of an ongoing story that can be completed by purchasing all of the Transformers in the series. As Transformers go, the toy is fairly solid with very few removable parts.
What's Old Is New Again….and Revamped
This is not the first time Transformer fans have seen Predaking. Originally introduced as part of Generation 1 (G1 – 1986, reissued 2004), Predaking was a the name of the larger Transformer created by combining the Predacons Divebomb, Headstrong, Rampage, Tantrum, and Razorclaw. Since Predaking was only playable as 5 different Transformers combined, it was rare to see it (only the luckiest of children had all 5 Predacons) and fragile to play with. Heavy, too. A very cool Transformer that took time to build and great care to play with. While the name Predaking disappears in the Transformers timeline, the Predacon faction continued to make appearances.
This newest version shares very little in common with its predecessor other than the name and affiliation. Everything else has been revamped. This has been mostly done to support the Transformers Prime Beast Hunters storyline. Now Predaking is a single Transformer instead of the results of snapping 5 smaller Transformers together.

Complexity by Design
Overall, Predaking is not one of the more complex Transformers to change. The instructions remain as confusing as ever, however, and I yearn for the days of my youth when I could transform these toys with little issue. Once you get through the instructions and transform it a few times, it becomes very obvious what needs to happen. What will throw off some folks is the Robot form's legs that rotated and then twist around to form the Dragon form's back legs. The directions are a bit unclear about how they fit together, but through trial and error, even my 5-year-old figured it out.
My wife has no idea how to do it and refuses to learn.
Supporting Cast?
Predaking is the leader of the Predacons, a Decepticon faction. The Predacon origin starts in a lab where the Decepticon Shockwave cloned the fossilized remains of Cybertronian dragons. The first to be successfully cloned was named Predaking. At the time of this review, I know of another 5 Predacons to be released. This means Predaking will have some loyal followers and not be a faction of one. If the new Predacon Transformers are anything like Predaking, they should very interesting toys indeed.
Final Word
Are you kidding me? It's a Transformer AND a dragon! It's a dragon Transformer! The only way this toy could be more popular is if it was made of chocolate. And popular it was. My little geeks about trampled me when I presented it to them. After each of my little geeks (ages 8, 5, and 3) had a chance to play with the Transformer, it was unclear which form was the most popular. Clearly, the Dragon form was well-loved, but I kept seeing them transform it into Robot form, and back again. When I asked them why, they gave me the following responses:
"I don't know. It looks really cool in both forms so I just keep transforming him." ~ Liam (age 8)

"When he's a dragon, he can shoot fire but can't talk. So when he needs to talk, he transforms into a guy." ~ Nyhus (age 5)
My 3-year-old mumbled something about "Kung-fu" and "don't bother me right now – I'm playing."
Clearly, Predaking is a winner in my house. My 3-year-old cannot transformer it yet (see our review for Playskool Heroes Transformers Rescue Bots Toys for an easier Transformer for this age group), but his older brothers can. After being in my house for 2 weeks, Predaking is still starting fights (we only have one to share with three little geeks). That's a sure sign that it's still a "going concern". As a fantasy and science fiction lover, not to mention a huge Transformer fan, I am very pleased with the toy. It looks great and is durable.
It's nice to take a break from card, dice, and board games and just sit on the floor with my little geeks to act out epic Transformer wars on the carpet. Being part of their imaginative stories is a blast. Putting Predaking into the mix was a very simple task and enjoyable for everyone.
Once they stopped fighting over him…
This toy was given to Father Geek as a review copy. Father Geek was not paid, bribed, wined, dined, or threatened in vain hopes of influencing this review. Such is the statuesque and legendary integrity of Father Geek.