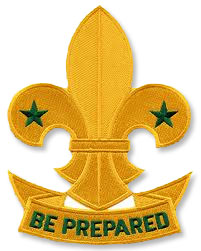 The Scout Motto applies to gaming, too!
A little over a year ago, when I had my own web site, I wrote about the games I always have with me in the car. I took an old Backgammon set we had and filled the empty space with 7 games available to play at a moments notice. I counted the standard deck of cards as one game, and the Cribbage board as a second. Since then, both Hive and Qwirkle have come out in travel editions, and we really enjoy both games. As times goes on, the contents of my little gamer's travel kit continues to change. Here is an update:
Backgammon: this was the 8th game in the kit; now it's the 7th. Hey, I'm carrying the case, I might as well keep it playable. That said, I did take out the dice cups to make room for other games.
Standard Deck of Playing Cards: a deck of cards is also a pretty obvious choice, since it's essentially a whole bunch of games in a pocket-sized packet that will work with any number of players. With that goes a…
Cribbage Board: This can be played with multiple players. The only problem is I'm currently the only person who knows how to play Cribbage. This issue can easily be fixed, however.
Those are the games that survived the cut. Considering how silly it would be to leave them out, it shouldn't be a surprise they remained. From this point on though, it's all new:
As I mentioned last year, there are other games that can be played using the Backgammon components, increasing the options already available. I might try to rearrange my gaming travel kit so as to make room for a copy of No Thanks! It comes in the same sized box as Onirim, so I might swap one game out for another if it doesn't fit.
Some of you who know me well have read this three times by now trying to figure out where the Chess set went. I ditched the little Drueke board I had in the game kit for my full size tournament set. It has its own bag, complete with roll-up board, triple weighted pieces, and a Chess clock. It takes up more space, but playing on that tiny board was tough with my 48-year-old eyes!
My philosophy is that I should never be caught without a game if I have the time to play and willing opponents to play with. That would be a shameful missed opportunity.
Gamers, Live the Scout Motto: Be Prepared!