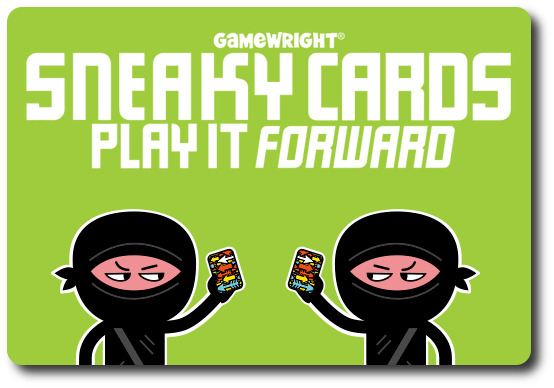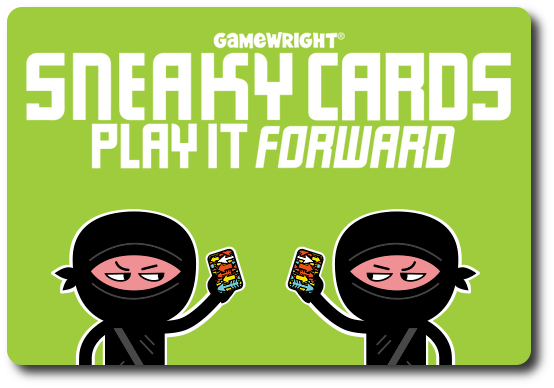 The Basics:
For ages 12 and up
For 1 or more players
Variable game play length
Geek Skills:
Active Listening & Communication
Logical & Critical Decision Making
Reading & Writing
Emotional Coping Skills
Risk vs. Reward
Self-confidence
Imagination
Learning Curve:
Child – Easy
Adult – Easy
Theme & Narrative:
Become a secret agent who spreads joy
Endorsements:
Gamer Geek rejected!
Parent Geek mixed!
Child Geek mixed!
Overview
The philosophy behind the "pay it forward" movement is simple: one good turn deserves another. In this game you are tasked to complete 1 objective that will require you to do something nice for a complete stranger. In return, the benefactor of your generosity becomes a player in the game, as well. And so it goes…
Sneaky Cards, designed by Cody Borst and published by Gamewright, is comprised of 55 Sneaky cards. And that's it. The cards are thicker and more durable than your standard playing card. Which is a very good thing when we consider that each card could potentially travel around the world.
Playing It Forward
Sneaky Deck is a game that can be played anywhere and at anytime. The goal is to complete an objective described on a card and then give that card to the person you are interacting with. It's then up to that person to complete the objective on the card and give it to someone else. Thus the "play it forward" phrasing found all the cards.
In total, there are 6 different types of cards. Each are summarized here.
Engage: Challenges the holder of the card to put themselves way, way outside of their comfort bubble.

Connect: Challenges the holder of the card to find someone who meets a specific requirement.

Surprise: Challenges the holder of the card to hide it in specific locations.

Care: Challenges the holder of the card to do something nice for a complete stranger.

Grow: Challenges the holder of the card to learn a new skill or try something new that allows them to interact with new people.

Create: Challenges the holder of the card to invent something new and then share it.

Tracking Your Deeds
Each card has a tracking number that allows the original owner of Sneaky Cards deck to learn about its location. The deck is registered at SneakyCards.com and individual cards within that deck can be tracked by going to the same website. On each card is an ID number that is connected to the deck. In this way, players can track the location of individual cards they used, while the original owner can watch all the cards at the same time.
Winning the Game
Victory is measured by the enjoyment of the experience. Sneaky Cards is designed to enrich lives. As such, if you feel like you accomplished something pretty neat, you have won the game. There are never any losers when the only goal is to do good.
To learn more about Sneaky Cards, visit the game's website.
Final Word
The Child Geeks were excited about the idea of the game, but a number of the cards made them uncomfortable. Specifically those that challenged the Child Geek to walk up to strangers. As one Child Geek put it, "Some of these just sound dangerous. I've been told not to go talk to people I don't know." To be fair, the game is intended for an audience that is 12-years-old or older, but even our older Child Geeks had reservations about a number of the cards. Oddly enough, the cards that had the players do silly thing were considered to be OK. When I asked why, one Child Geek said, "I'll just do this in front of my friends. I know they'll laugh and then I'll pass the card to them. Easy!" Perhaps so, but deciding if the game was for them or not was difficult. They discussed it and finally decided that the game was interesting and had some good ideas, but it wasn't a game that all the Child Geeks would enjoy.
The Parent Geeks didn't like the idea of the cards that challenged players to approach strangers. According to one Parent Geek, "In this day and age, a child approaching an adult or an adult approaching a child makes everyone around them feel squeamish. As a mom, I wouldn't want either scenario for my child." The Parent Geeks felt better about the game when I told them that any card could be removed. When I introduced the card tracking, they became concerned all over again. As one Parent Geek put it, "I'd play the game, but I wouldn't want the card I am holding to be tracked to where I live. That's private and I don't know who would have access to it." All the Parent Geeks readily agreed that finding an address was not that complicated, but they didn't want to make the process any easier. In the end, the Parent Geeks had concerns about a player's privacy and security. Two strikes against a game they otherwise thought sent a good message. They decided that they would give the game a mixed approval, leaving it up to the individual to decide if the game was worth the possible risks.
The Gamer Geeks didn't care for Sneaky Cards whatsoever. As one Gamer Geek put it, "The idea is interesting, but it doesn't really work for our kind of group. Gamers tend to enjoy challenges, but when was the last time you saw gamers being really social, let alone walking up to complete strangers?" Another Gamer Geek said, "A great idea for a social experiment within a classroom or for an individual who just want's something interesting to do on their way to work, but I don't see this as a game that anyone I know would be interested in." The Gamer Geeks all agreed that the game's concept was unique and that Sneaky Cards was not a game that anyone of them would ever want to play.
Sneaky Cards is one part game and one part social experiment. Which is not bad, but it raised a lot of eyebrows from the Parent and Gamer Geeks. The Parent Geeks in particular where both nervous and appreciative in equal measure, which caused a great deal of discussion. The Gamer Geeks just rolled their eyes. The only group that was excited about Sneaky Cards were the older Child Geeks, which I found to be a little surprising. I would have expected them to reject the game due to its requirements to interact with strangers and putting themselves in socially awkward positions. This was not the case, however. They relished the challenge.
While the idea is to get ride of all the cards, there is nothing stopping a player from picking and choosing which objectives they want to tackle. The cards can even be dealt to other players and a race of sorts can be had to see which person is able to get ride of their cards first. The only limitations are opportunity and comfort level. Some cards require the player to be at certain places that might not be easily reachable. As for comfort level, well, that's part of the game's goal. If the objective feels uncomfortable, the player is asked to push through it and succeed, but if something is too uncomfortable, then most certainly do not do it. Especially if it seems unsafe or illegal.
Sneaky Cards is interesting and challenging. A handful of the cards, if completed, will give the player a really great story to tell later in life, but the majority of objectives ask nothing more of the player than to have fun. Along the way they will learn more about themselves and grow as a person. The end result is a social experiment that uses gamification to engage and connect people in positive and enriching ways. I think that's a game we can all play and benefit from.
This game was given to Father Geek as a review copy. Father Geek was not paid, bribed, wined, dined, or threatened in vain hopes of influencing this review. Such is the statuesque and legendary integrity of Father Geek.