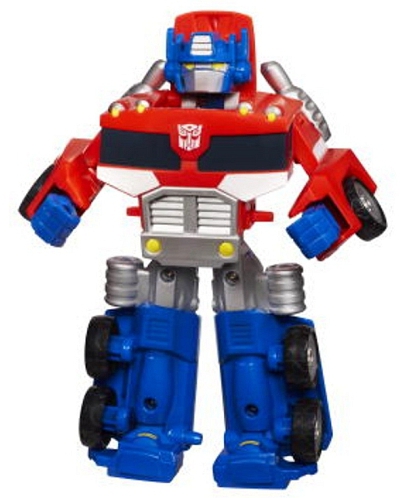 By John Chovan
Guest Contributor
The Basics:
For ages 3 and up
No choking hazards for 3 and up (Transformers Robots)
Possible choking hazards for Human Helpers and Playsets
Geek Skills:
Active Listening & Communication
Hand/Eye Coordination & Dexterity
Cooperative & Team Play
Imagination
Learning Curve
Child – Easy
Adult – Easy
Theme & Narrative:
Children and adults can save the world together using basic Transformers
Endorsements:
Gamer Geek not applicable
Parent Geek approved!
Child Geek approved!
Overview
For those of you who revel in your 1980's Transformers geekdom, but have had to sulkily shuffle away from the toy section of your favorite store because you have toddlers, prepare to rejoice! Playskool Heroes now has a line of Transformer toys which will enable you to once again lead the Autobots into action, this time with your little geeks in tow!
The Rescue Bots series sort of incorporates a Sesame Street'esque feel in that you can also purchase human helpers for each of the bots. The human helpers have two modes (of course) and allow for the human to attach to the specified Transformer or for stand-alone play if you don't have the Transformer Rescue Bots.
The Transformer Rescue Bot series includes Optimus Prime (semi), Bumblebee (sports car), Heatwave (fire engine), Chase (police car), Boulder (construction bulldozer), and Blades (helicopter). These toys are designed for ages 3+ (the plus means you get to play, too!).
Finally, there is a Fire Station and Rescue Garage that look like Optimus Prime (Fire Station) and Bumblebee (Garage). The Garage comes with a Bumblebee and his human helper, whereas the Fire station comes with Heatwave and his human helper.
For those of you who want to expand your Heroes collection into different realms, keep an eye out for Marvel Super Hero Adventures and Star Wars Jedi Force toys in the same vein as the Transformers.
Prediction
Little ones will enjoy these toys for several reasons. First, moving parts always intrigue children. With the vehicle mode, geeklings will be able to roll and crash their way to discovery. Second, with the robot mode, they will enjoy playacting and storytelling. If you relish your own memories of the Transformers, these toys are a simple way to pass on your Cybertronian love.
Final Word
I often try to make up stories about the Transformer characters for my sons  (I have quite a few of the discontinued PVC Robot Heroes as well), which has led to many funny stories being told by my 3-year-old about how Optimus and Bumblebee became friends, are angry with each other, and other various friendship ordeals. With a little bit of background knowledge, my sons have become true Transformers geeks.
Having purchased a few of these for myself…..um, I mean "for my sons", I am happy to report that they pass muster. The robots are very simple to transform and engage little geeklets' hand/eye coordination.
In terms of playing with the toys, my little geeks enjoy the transforming aspect the best. So far, both Optimus and Bumblebee have been transformed dozens of times and they are holding up well. Even though the toys are made of plastic, they have managed to survive the beatings often inflicted by a 3 and 2-year-old quite well.
For the bots, the transformation is basically a three-step process to change from robot to vehicle. Since the average Transformer now requires a doctorate in engineering to change from one mode to another, it is nice to see a simple push/pull system in place with these toys.
On a somewhat negative note, Optimus Prime's head does make for a headache in my experience. When changing him into vehicle mode, his head needs to be pushed down, but the latch which holds down his head is pretty puny. When my little geeks transform him, it often pops back up. This means you will most likely have your little geeks asking you to please put Optimus' head down many, many, many times. You would think that Playskool would have consulted Vector Sigma before implementing such an annoying design flaw.
Overall, these toys do an excellent job of blending simplicity with Transformer technology and won't cost you too much Energon or tax your wallet. Recommended for geeks, both young and old!
TILL ALL ARE ONE!