The following is part of an ongoing chronicle of a family's role-playing gaming experience. Follow along on this epic journey of family intrigue, learning, sharing, and dungeon plunging as they work together to get loot and slay monsters.
---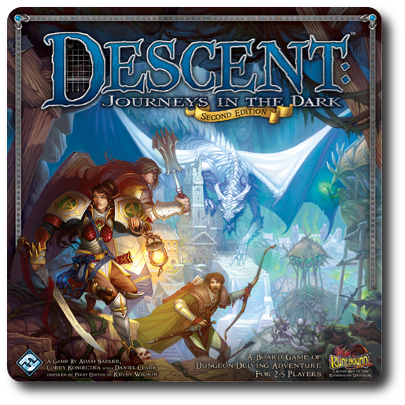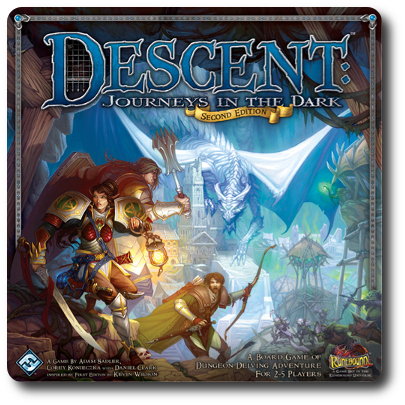 For many months, our family has tossed around the idea of playing a family role-playing game (RPG). However, playing a typical pen and paper RPG takes a lot of preparation because characters need to be generated, a back story created, scenarios written, and maps developed. So we've looked at alternatives such as Wizard's story-based Dungeons & Dragons dungeon crawlers (ie. Castle Ravenloft). While the game did provide each of us a character to use and a story to play through, our characters didn't develop over time. At the start of each scenario, our characters went back to level 1. It just didn't provide that development we were looking for.
Enter Fantasy Flight Games (FFG).
Last year at Gen Con, FFG announced they were going to release a 2nd edition of their popular board game, Descent: Journey's in the Dark. Like Castle Ravenloft, Descent is a dungeon explorer with a long campaign that is played out through several quests. The big difference in the characters, between Descent and Castle Ravenloft, is that at the end of each quest each character earns experience points (XP) and gold which can be used to purchase new abilities and equipment. These new skills and equipment are carried over from one quest to the next. Another difference, Castle Ravenloft's non-player characters (NPCs), like monsters and assorted villains, are controlled by the game itself. There are rules that dictate how the NPCs interact with the players like a video game's artificial intelligence (AI). In Descent, one player is the Overlord, a player responsible for controlling the NPCs and making decisions for them. This brings in a human element which will make the game a little more fun and a lot less predictable.
After talking over the similar and different aspects of Descent and Castle Ravenloft with the family, they were all in agreement that we needed to play Descent. So we got the game, prepped the game pieces, and read the rules. It was now time discuss what roles each of us were going to take.
The process of picking roles took us several days because someone was going to have to agree to play as the Overlord for the entire campaign. I had asked the question on Board Game Geek if it was possible to rotate the Overlord role over the course of the campaign, but the consensus was the game was meant to pick one role and stay with it so that you could develop that role over time. With that in mind, we decided for our first campaign that it would be best if I took on the role of the Overlord. That left my wife and three sons to pick their heroes.
In Descent, there are four archetypes: Mage, Warrior, Scout, or Healer. Within each archetype are classes, providing distinct play experiences even between multiple players sharing the same archetype. As a warrior, you can take the role of the valiant Knight, providing protection to your physically weaker companions. Or you can play as the mighty Berserker, which is about dealing massive amounts of damage. My family decided to pick one from each of the archetypes to make sure the team was well diversified. My wife selected Ashrian, the elven Healer Spiritspeaker, who looks to keep her teammates healed while placing nasty conditions on her enemies. My oldest son selected Leoric of the Book, the human Mage Necromancer, that conjures familiars under his control to face his foes. My middle son selected Grisban the Thirsty, the dwarf Warrior Knight, who takes the frontline of a fight and buffs his nearby allies. And lastly, my youngest son selected Tomble Burrowell, the spry Scout Wildlander, who wields a mighty bow and provides range support.
With roles selected, it was now time to play. Our goal is to have an epic adventure using one quest per week. This means it will take us roughly around 20 weeks to complete the campaign, "The Shadow Rune". During this time, I'm going to chronicle our family's journey as they travel through the kingdom of Arhynn. After a few gaming sessions, I'll write a full review of the game to post on this site.
How will our heroes fare? Can they stop the evil forces of the land or will the Overlord prevail? Let the adventure begin!