Big Bad Dad from Seattle writes…
Hello, Father Geek!

Great site! Love the fact that you are looking at games from a parent's perspective instead of just an elitist player's perspective. Very refreshing!

Quick question for you. I have two children. A seven year old boy and a 4 year old girl. They are both heavily into sports (soccer). I am not what you would call the athletic type. I do my best to keep up with them and kick the ball in the yard, but an old childhood injury keeps me from running around a lot (very bad back). They like playing board games (mostly Settlers of Catan and Stone Age, as well as Dominion), but I want to find a game that is sports related, preferably Soccer. I've looked on the Geek and found a few, but want to know if you have any suggestions on how I should rate and review these games myself for my kids.

Again, love the site! KEEP UP THE GREAT WORK!"
I'm going to confess right off the bat that I don't really have much experience with sports-themed games. To be honest, the research you've already done is probably sufficient to make your decision, as long as you remembered to search for "Football" as well as "Soccer" because of that whole international thing. So I won't bore you with a list of titles that came up when I did a BGG search. I will, however, throw in a link to this little geeklist, The Definitive List of Soccer Games, and then add a few thoughts of my own.
Looking at the games your kids already like tells me that you want a game with elegant rules (like Settlers of Catan), colorful bits (like Stone Age), and a lot of replayability (like Dominion). Unless your 4 year old is a gamer beyond her years, watch out for games that require a lot of reading or have significant amounts of hidden information.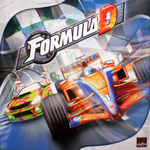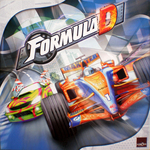 From personal experience, the best game that comes to mind is Formula De, which has been reprinted with a streamlined rules set as Formula D. I think your kids would really like this game because of the reasons mentioned above. Plus, the dice are cool.
But if racing doesn't appeal to them, I would suggest the "Pizza Box" series of games. While I've never played them, they seem to be well-regarded among gamers. They might be a little too complex for your 4-year old, but if she can handle Dominion, she'll handle these with a little more guidance. If your kids are sensitive to violence, I would steer away from Blood Bowl, but I've heard that it's a good dice-festy mishmash of football and fantasy combat.
Now, if you're a little more daring, here's a thought I had earlier today. You know your kids better than anyone. You know their interests, their abilities, and personalities. You know how much they like or dislike rolling dice, reading cards, and saying things like, "Take that!" Here's the idea: If you can't find a game that feels right, make one. It might sound daunting, but I can tell you that this can be a very rewarding project. Make the whole game about them and their teams. Put their names on the game board. Make the cards out of photos of their teammates. Include them in the design process. Ask them what they want the game to be like. Invite them to play test it. It will be a lot of work, but in the end you will have a game customized to your very own children. Even if it's only played once, it's a shared experience that they could only really have with you.
No other game in the world can give them that.