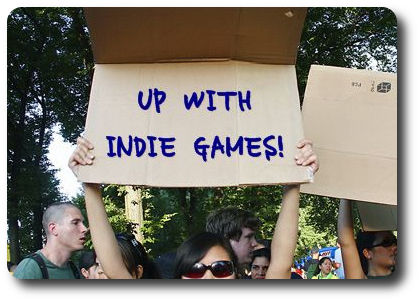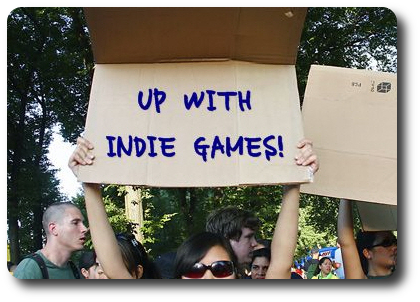 Being independent means you are free to go your own way without being tethered to a larger group's ideals. Independent thinkers cast off the idea that current beliefs and the status quo are the final solution and seek out to challenge and redefine the landscape around them. This landscape could be in the political world, the financial world, and believe it or not, the game hobby world.
Our gaming hobby is primarily dominated by large game publishers. These game publishers spend a great deal of resources to find, create, and publish games. Their intent is to make money, but this is not a bad thing. You cannot demonize a company for working to make money anymore than you can demonize a lion for hunting another animal for food. For both, it is in their nature and necessary for their survival.
The game publishers range from huge corporations (Hasbro, for example) to smaller companies like Tasty Minstrel Games. The companies take game submissions regularly, do the market research, test out the games, and if the money is there and the game looks promising, they publish it for everyone else to play. Only a handful of the games submitted ever get picked up. Which begs the question, what happens to all those other games?
Some game designers simply take their rejection letter, their game, and stick both up on a high shelf covered with the thick dust of regret. Others look at the rejection as an opportunity to improve their game or go knocking on the doors of other game companies. Still, there is a third group that is growing in number that are avoiding both the rejection letters and the need to submit their games to large companies for publication. These entrepreneurial "indie" game designers take their game and then use services available to them on the interweb to produce and publish their own games.
This level independence allows for creative freedom to define their own terms and to stick with their original vision. Of course, by being independent, all the financial burden falls on their shoulders. "Indie" game publishers must pay for everything themselves, from the crafting of the game to the logistics of getting it out into the world and onto your gaming table. Ironically, the most time intensive part of the process, the designing of the game, is the cheapest. Once the game has been play tested and improved to a point where others will want to play it, that's when it starts to get expensive.
The amount of that expense and the difficulty of getting a game self-published, however, has somewhat diminished. In the not to distant past, an "indie" game designer and publisher would need to spend a great deal of their time and money to gather the necessary parts to create their game. Thanks to high quality printers and an abundant amount of materials being freely available and relatively inexpensive, the cost to publish and produce your own game will not require an individual to sell their organs on the Black Market to cover the cost. It is still expensive, however, and I don't want to make light of the financial burden. Hundreds of dollars will need to be spent and even more if the game requires a lot of pieces. The game should also look appealing and for that the game components need to be high quality. You can quickly see the price of publishing a single game skyrocket out of your budget control.
Luckily, times have changed and the "indie" game designer and publisher have a number of great services available to them to help publish their game. Two such services are Kickstarter and the Game Crafter.


Kickstarter is a site that allows you to pitch and sell your game to individuals before the game is even made. Some have called Kickstarter a pre-order system, and indeed it might very well be, but it also lets the "indie" game designer and publisher collect the necessary funds from willing individuals so they can publish their game. If the requested funds covers the cost of not only the publication and shipment of the games that are pre-sold to the backers on Kickstarter, the savvy "indie" game designer and publisher uses the rest of the acquired funds to mass publish their game. Now they have a viable product they can sell on their own using the interweb or sell it directly to game stores.
On an interesting sidenote, established game publishers who have the ability to publish games on their own are also now using Kickstarter to help them with pre-orders and to reduce the financial risk on a new game. I think this is exceedingly smart business while others believe this is taking advantage of Kickstarter and goes against what Kickstarter is all about. Pish-posh to that, I say. If I owned a company and I knew there was a way for me to reduce the amount of cash upfront I would need to risk for a game, I'd be all over it. That's good business sense 101, folks.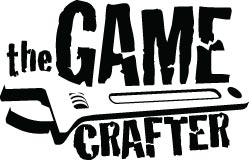 The Game Crafter is an "indie" game designers and publishers one-stop-shop for publishing and shipping their games. The Game Crafter web site allows an individual to upload their game rules and then select from over 300 individual game components to be used with their final product. They can also design game cards and player mats. Once completed, the game is marketed by the Game Crafter and every copy purchased is created on-demand. A percentage of the sale goes back to the Game Crafter and the rest is pocketed by the "indie" game designer and publisher. This works out very well as it does not require the individual to buy a large number of game units up front in hopes that they might sell. There is also community support and a rating system in place that allows individuals to read the rules of a game, read the opinions of other players, and make an informed consumer decision.
Of course, there are web sites that sell game components, printing companies, and marketing companies that are available to help an "indie" game designer and publisher, but going this route can be exceedingly costly, risky, and time intensive. If you play in this space, you should expect to have a lot of capital upfront to cover the costs, have a clear idea who your market audience is, and know exactly how you will be getting the games out the door. In truth, if you have your collective act this together, you should just go create your own game company. I know I would.
Where does all this lead us? To a world of wonderful new gaming possibilities! With web services and companies now being created to support the "indie" game designer and publisher, this means all those games that were rejected will find a new way to gain approval. This also gives us, the game buyers, a great deal of choice and even more wonderful games to experience. You should review and research "indie" games just as much if not more so than the big published games. Not everything that is published is good, nor is every game that is rejected bad. Educate yourself before you buy, read the reviews, and ask around. If you can reach out and contact the game designer, do so! I bet they'd love to hear from you. Ultimately, don't buy unless you know what you are getting. The same could be said about anything you purchase and is not limited to our hobby.
Personally, "indie" games both fascinate and thrill me. You can see the level of enthusiasm and love put into an "indie" game. It is not just a product put in a box and shipped in hopes of making money. No, it is a project that someone spent hours and hours working on, improving, and sharing. Such dedication and creativity seldom results in something bad. But like all games, be they "indie" or mass-market-published, there are good ones and bad ones. Now, with the "indie" game designers and publishers able to make their games available to you, the number of games for you to play truly ensures there is something for everyone at the gaming table.
It is a wonderful time to be a Gamer!