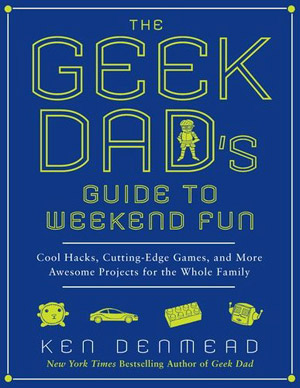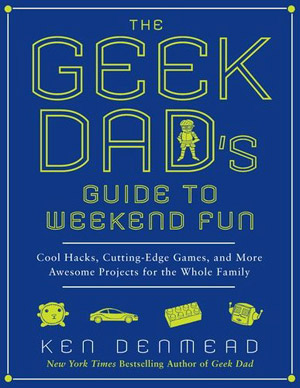 The Basics:
25 Do-It-Yourself weekend geek projects
Activities for parents and kids
227 pages of creative awesomeness
Geek Skills:
Active Listening & Communication
Counting & Math
Logical & Critical Decision Making
Reading & Writing
Hand/Eye Coordination & Dexterity
Visuospatial Skills
Theme & Narrative:
Geek projects for the weekend or whenever you are the mood for a fun and creative activity with the family
Endorsements:
Father Geek approved!
Child Geek approved!
Overview
The Geek Dad's Guide to Weekend Fun is full of cool hacks, games, and creative projects for the entire family. Not only does it contain 25 weekend projects that will take your geekdom to new heights, but it also includes some outstanding prose from such greats as Rod Roddenberry (son of Gene Roddenberry, the creator of Star Trek) and  illustrious illustrators like John Kovalic (artist for the absurdly popular card game, Munchkin). In its entirety, the book is a homage to all things geek, family, and quality time.
Within the pages of the geeky tomb lie step-by-step instructions on how to create a trebuchet out of LEGO bricks, how to make your own ray gun (pew! pew!), and even how to make a Death Star temari ball. The book itself is broken down into four specific sections that set the theme of the projects. These sections are:
Hack It, Build It, Play It: all the projects require parts and time, but the end project payoff is huge. Example projects include how to make your own NERF dart blowgun and instructions on how to create a  Twenty-First-Century superhero cape!
Gaming the System: all the projects are about board, card, video games, and having fun – something Father Geek knows a great deal about. Example projects include making your own card game and how to create fantasy gaming terrain.
Eat, Drink, Play, Geek: fun with food! Example projects include how to measure the speed of light with chocolate and how to make homemade root beer.
Crafty Like a Geek: technology and arts and crafts collide! Example projects include how to create a stop-motion movie and how to Photoshop images of your kids on their own LEGO blocks.
Each project has a quick introduction and a summary table for easy reference and preparation. The table summarizes the project's concept, cost, difficulty, duration, reusability, and any tools and materials required. At a glance, anyone can quickly determine if the project is the right one to tackle given the available time to be had. This was an excellent addition to the book that made it all the more easy to skim and find what I wanted to work on with my little geeks.
Throughout the book, there are detailed illustrations and step-by-step instructions that take you quickly through the project. Before you know it, you are done, and it hardly felt like any effort at all. It might not have been intentional, but the book is designed so well that I was able to be easily get back to where I left off with a project even after being interrupted and sidetracked by my little geek's shenanigans. Now that's a book a father with screaming, running, and distracted little geeks can really enjoy!
Taken as a whole, The Geek's Dad Guide to Weekend Fun is an excellent "part 2" to Mr. Denmead's first book, Geek Dad, which is another book full of fun projects. I would even go so far as to say that this book is equal to the pure awesomeness that is The Dangerous Book for Boys in regards to the value of activities. Yes, it really is that good.
If you are looking for a book that celebrates geekiness, parenthood, and completing fun-filled Do-It-Yourself projects, look no further! The Geek Dad's Guide to Weekend Fun is the book for you!
Final Word
I have been a follower of Ken Denmead for sometime. In fact, Mr. Denmead was one of my many early inspirations to start Father Geek. Ken took "fatherhood" and "geekiness" to a whole new world that, at the time, was rather new to me. His take on life was that his passion for geeky things was something to be shared and enjoyed. Not really all that revolutionary or radical, but there weren't many people claiming the two could be melded together into a cohesive whole that was more than sum of its parts.
As a father and a geek, but more importantly, a parent who wants to connect with his children, the projects in The Geek Dad's Guide to Weekend Fun are exactly the kind of thing I am interested in. Too often, after a long day at the office, my creative gas tank is nothing but fumes and I lack any and all motivation to think of something creative for my little geeks and I to do. This book, with its easy reference, makes finding something to do a snap. Best of all, the planning has been done for me. This means, regardless of how long or tiresome my day might have been, a good deal of the preparation work for a great geeky project with my sons is complete and all I need to do is sit down with my children, bond, and create something awesome.
Do get your hands on this book via your local library or buy it from your friendly local bookstore or online boutique of choice. It is well worth your money and your time.
This book was given to Father Geek as a review copy. Father Geek was not paid, bribed, wined, dined, or threatened in vain hopes of influencing this review. Such is the statuesque and legendary integrity of Father Geek.