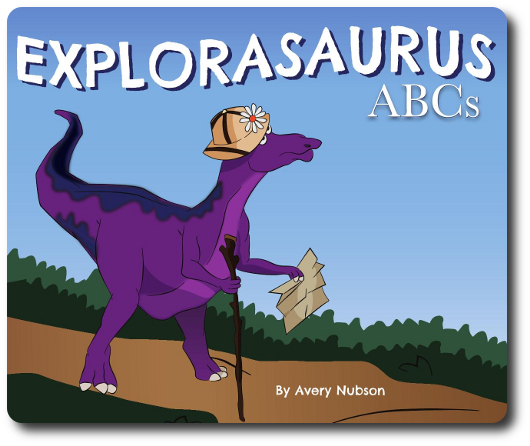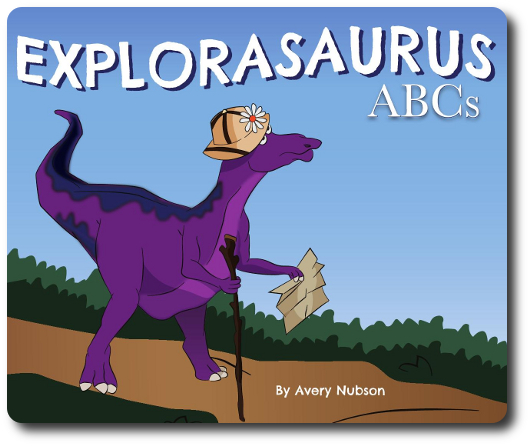 The Basics:
For all ages
For 1 or more readers
Learn why "D" is for Dimetrodon
Geek Skills:
Reading
Geography
Paleontology
Theme & Narrative:
Dinosaur names are even harder to pronounce when you don't know the alphabet
Endorsements:
Gamer Geek not applicable!
Parent Geek approved!
Child Geek approved!
Overview
Actor Matt Smith (most notably recognized for his role as the 11th Doctor Who) said, "As a kid, I knew all of the dinosaurs. It's one of those tragedies that I've forgotten what dinosaurs are cool." I never forgot. It's the Triceratops. That creature was a tank on four legs with horns ready to ruin a Tyrannosaurus Rex's day. As adults, we still remember our love of dinosaurs and now we get to share our fascination with our children, whether they want to or not.
Explorasaurus ABCs, written and illustrated by Avery Nubson, is 28 pages of alphabetical and paleontological humorous education. Bright colors, quirky dinosaurs doing quirky things, and short rhymes cover Ankylosaurus the aspiring actor to Zephyrosaurus who likes to zest his zucchinis. And if that's all there was to the book, I wouldn't have much to say about it, but I do. So much more.
In addition to each letter in the alphabet corresponding to a dinosaur's name, the bottom portion of the page includes information that further introduces and educates a younger reader to the dinosaur in question. For example, how to pronounce the dinosaur's name, what the name means, how big it was, what  it ate, and where and when did it live. All of this is cleanly and unobtrusively provided for every dinosaur. It doesn't demand the attention of the eye, but it does provide a great deal of information.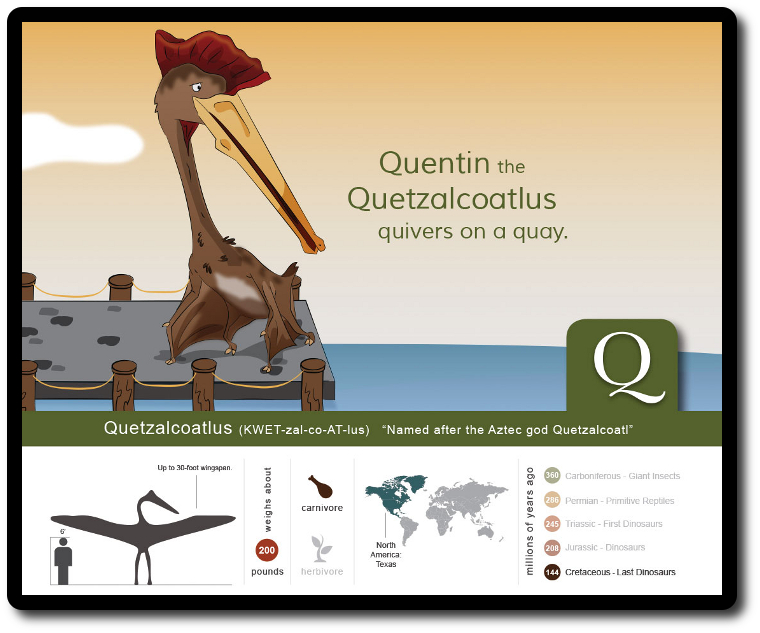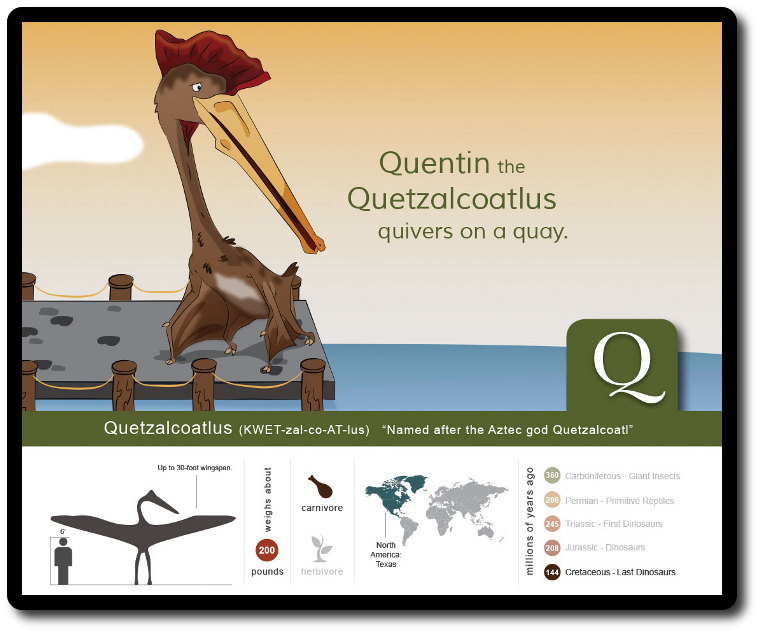 And, again, if that's all there was to this book, I wouldn't have much to say about it. Lots of kid books are available that discuss letters and dinosaurs. This book does something slightly different that I think is simply marvelous.
This is a dinosaur book that you can grow up with. It all starts with recognizing letters in the alphabet and learning how to read. Then we move on to pronouncing the names of the dinosaurs which you have already associated with the letters you have learned. Then we come to the scientific facts that take the reader in a whole new direction. No longer is Explorasaurus ABCs a book for kids, but a streamlined field guide for budding paleontologists.
As an added bonus, the back of the book includes a map of the world that shows where the different dinosaurs  might have lived based on where their fossils were found. The book also includes a glossary of all the words used in the book, helping young readers learn what the different words mean. After finding your definition, you can go back to the colorful images and scientific facts, learning as you go.
To learn more about Explorasaurus ABCs, visit the publishing company.
Final Word
As a father of 3 kids, I feel that I have read just about every kind and type of children's books out there. I've read Everybody Poops more times than I will ever care to remember and we have covered just about every Little Golden Book available. Not that I mind. In fact, I am somewhat saddened that my oldest child now reads comfortably and quietly on his own. All I can do is read next to him and I can't help but miss the days when he was on my lap pointing at pictures in a book.
Nowadays, my youngest is the only one who still crawls onto my lap to have a story read. Explorasaurus ABCs delighted him, despite already knowing his ABCs like a boss. The funny little rhymes and colorful pictures had him turning each page with excitement. Predictably, he shared the book with his brothers. What I didn't expect was how interested his brothers would be.
Turns out that my boys, who do enjoy a good dinosaur book and trip to visit dinosaurs at a museum, all enjoyed the dinosaur facts. More so than the ABCs, if the truth be told. Indeed, this children's book not only excited them, but it also got them talking about other dinosaurs. It was common to find a bigger and more "adult dinosaur book" (as my kids like to call them) easily within reach so they could learn more about the dinosaurs being discussed.
Explorasaurus ABCs covers a lot with very little effort. By doing so, it has opened a number of doors to new readers, young dinosaur enthusiasts, and dinosaur lovers. Best of all, it builds upon each experience, enriching and exciting the reader, challenging them to learn more, and growing in the process. ABC books for kids are a dime a dozen nowadays, but here is a book that is worth every penny. It'll be in your library for a long time, well after the ABCs have been mastered and the epic struggle of not pronouncing Fukuisaurus (really) wrong in public begins.
I'm still fighting that battle…
This book was given to Father Geek as a review copy. Father Geek was not paid, bribed, wined, dined, or threatened in vain hopes of influencing this review. Such is the statuesque and legendary integrity of Father Geek.