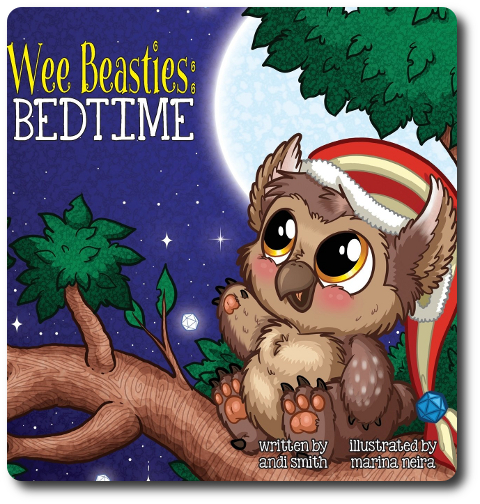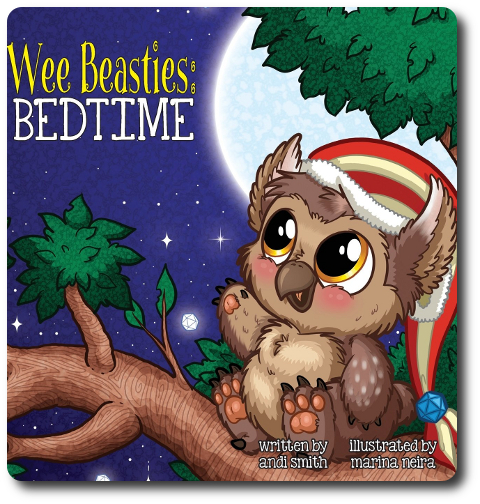 The Basics:
For all ages
For 1 or more readers
You'll spend most of your time looking at the pictures
Geek Skills:
Theme & Narrative:
Fantasy beasts yawn and say goodnight
Endorsements:
Gamer Geek not applicable!
Parent Geek approved!
Child Geek approved!
Purchase:
Overview
Even the biggest of dragons were once small hatchlings. Those horrific beasts that hunt in the dark woods, terrorize villages, and gobble up children were once kids themselves. It's easy to forget that the biggest and baddest of monsters started out small and cute. In this book, you get to glimpse the "early years" of several fantasy beasts, which are not so different than our own.
Wee Beasties: Bedtime, written by Andi Smith and published by Whimsey Works, is 34 pages of adorable horrors you might have attempted to slay or run away from while playing Dungeons & Dragons. Andi Smith crafts a short rhyme on each page that introduces the wee beasty's bedtime ritual. For example, the Harpy sings, the Ogre scribbles in her diary, and the Manticore simply yawns and goes to bed on his dungeon map.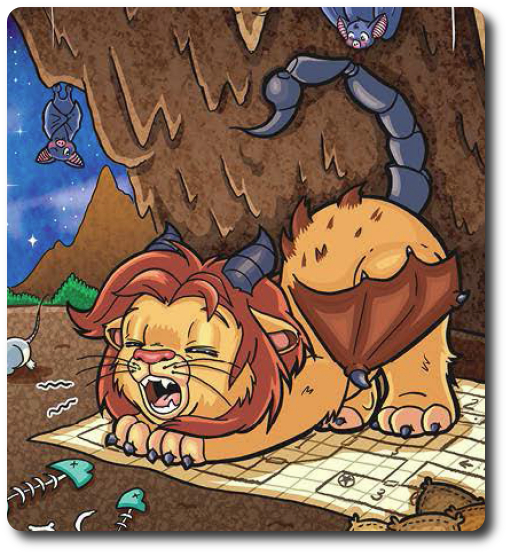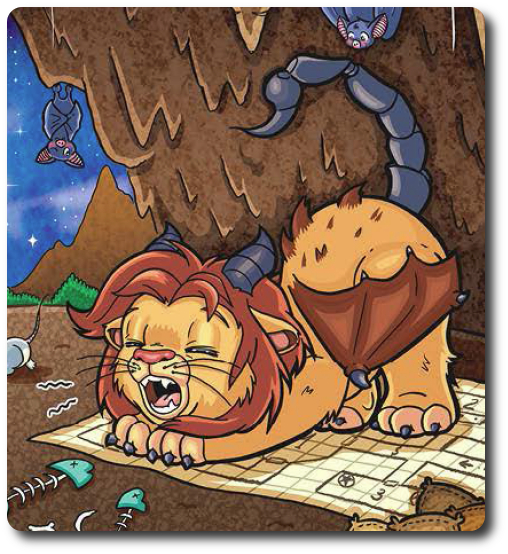 While the rhymes are fun to read and capture the essence of each wee beastie, it cannot hold a magic candle to Marina Neira's illustrations. A page is dedicated to each wee beasties' lair (i.e. "bedroom") and shows the most adorable version of the monster you can imagine. Better still, included in each illustration are Easter eggs, secret messages, and inside jokes. This not only adds depth to the book, but also creates a game. Hidden in each illustration is a single 20-sided die. Sometimes they are obvious and sometimes you will have to really search for them.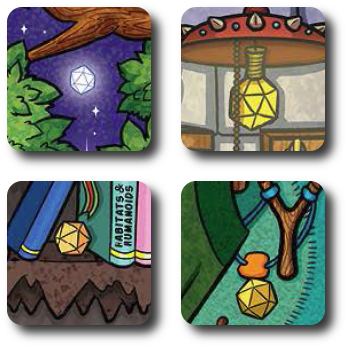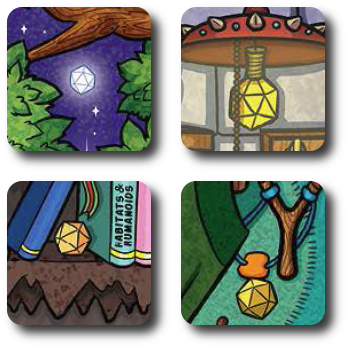 Throughout the entire book, from start to finish, the reader will learn that each monstrous child has bedtime habits that are not so different from our own. Brushing beaks, combing tangled snakes, and cleaning up the lair are all activities we can relate to. Could it be that we have misjudged these creatures? Do the dragons that guard untold treasure secretly sleep with their wubbies? Are we unfairly judging the unruly Ettin who flings great gobs at mud and rock? Perhaps…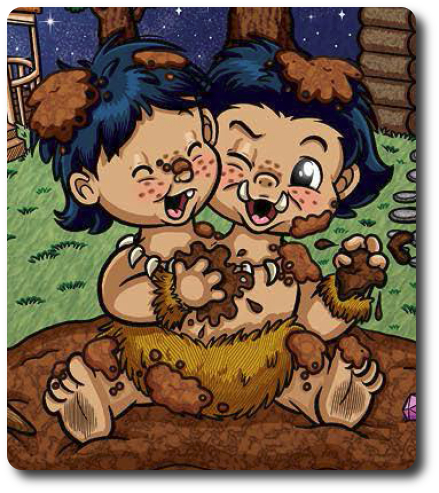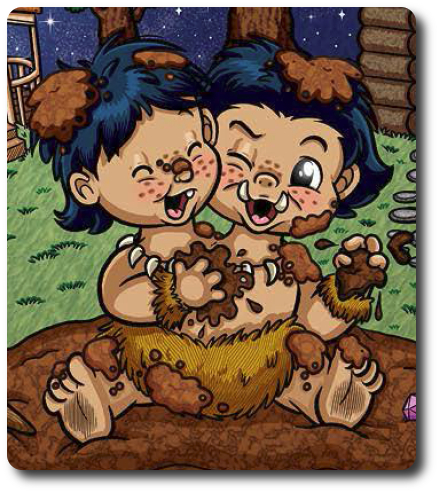 The reader will be presented a whimsical world of fantasy that is saying goodnight to a long day. One can only imagine what adventures these wee beasties had and what will await them the next morning. But for now, it's enough to see these adorable creatures blow out their candles and call it a day. A young reader or listener of the story will take the hint and close their own eyes, entering a world of dreams where heroes and monsters all appreciate a good night's sleep.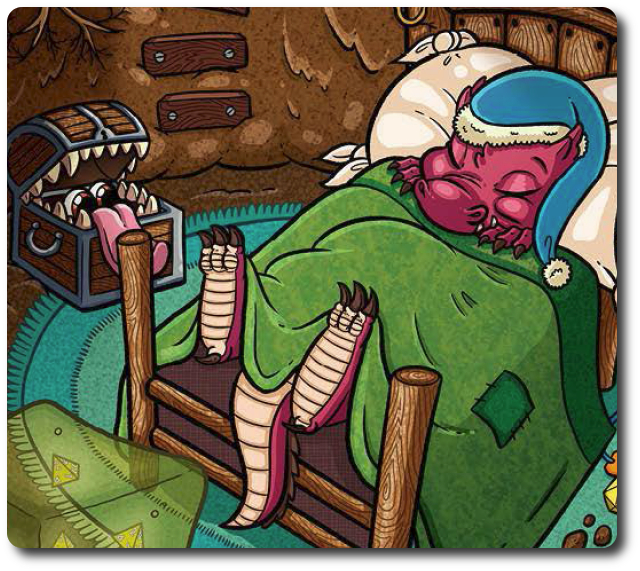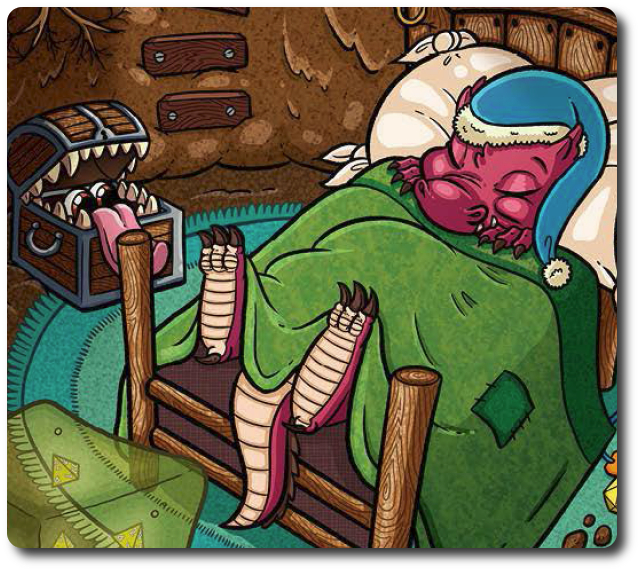 Pleasant dreams, little monsters. Sleep well, little heroes. May tomorrow's adventures be just as grand as today's.
To learn more about Wee Beasties: Bedtime, visit the books' web page.
Final Word
The Child Geeks adored this book. They would read it in groups and then find the Dungeons & Dragons Monster Manual to compare the baby monsters to their adult counterparts. This, of course, generated much discussion. One Child Geek said, "These monsters are so cute! I wouldn't fight them, even if they did have treasure." Another Child Geek said, "I fight these monsters sometimes when we play with the miniatures, but this is the first time I've seen them as kids. I hope I'm not fighting their parents." In many ways (which is both sweet and odd), these horrific monsters of legend were humanized, making them not something to fear and fight, but something to relate to on a personal level. When all the stories were read and the Child Geeks were put to bed, the book was fully approved.
The Parent Geeks were either nostalgically in love with the book or just enjoyed it as a fun story to read to their children. For those who were gushing over it, their enjoyment came from reading the book and then telling their children their "war stories" about the many times they fought the bigger versions of the illustrated creatures. One Parent Geek said, "I totally forgot about this really hard battle I had with a goblin horde back when I was playing RPG's. After reading this book, I started to remember. I told my kids about it and now they want to play the game, too!" For those Parent Geeks who were not past or present players or role-playing games, Wee Beasties: Bedtime was still a fun book to read. The illustrations were enjoyable to explore, with Parent Geek and Child Geek working together to find all the hidden treasures. Indeed, it became a quest of sorts, as the a simple bedtime story evolved into a hunt to find secrets. One Parent Geek said, "The story is OK, but what I really like is looking at the drawings. We keep finding something new, which keeps us coming back for more." At the end of a LONG day for the Parent Geeks, they still had enough energy to approve the book.
The Gamer Geeks (some of whom are also Parent Geeks), were not asked to participate in this review. That didn't stop them from commenting, however. One Gamer Geek said, "I think there needs to be more books like this. Dungeons & Dragons is played all around the world. The stories that come from playing the game are fun to remember and retell. This book takes elements of happy memories and puts them in a story meant to entertain kids. That's total win." Another Gamer Geek said, "This isn't a game, so I know my vote won't count, but I just want your readers to know that Gamer Geeks will appreciate the book."
I also enjoyed the book, but not so much the writing. I would not say that the text is poorly written. Far from it. But I didn't find any inspiration in the words. The focus of almost all my attention was the illustrations. There are many little winks and nods for those who are up-to-date on their geek culture. For example, a number of the character's found in The Gamers: Dorkness Rising and JourneyQuest are hidden in the background and foreground of the images.
But that's not all. Other items of geeky interest can be found. There is a book titled I'm Attacking the Darkness, which comes from a skit titled Dungeons & Dragons, performed by the impromptu comedy group, The Dead Alewives. There are also inside jokes aplenty. One of my favorites is the mighty "dread" gazebo struck with arrows, something my little geeks immediately recognized, but will go over many people's heads. It's little touches like this that made the book special. It was clear that it was a labor of love coming from people who wanted to share their geekiness with others. And who better to share it with than the next generation of geeks?
I thoroughly enjoyed Wee Beasties: Bedtime and I think you will, too. If you are a mom or dad who enjoyed role-playing games in the past, are lucky enough to still be playing them (where on Earth do you find the time), or just a Parent Geek who is tired of reading the same old children's books, then do look into Wee Beasties: Bedtime. You might just find it to be a treasure worth hording.
This book was given to Father Geek as a review copy. Father Geek was not paid, bribed, wined, dined, or threatened in vain hopes of influencing this review. Such is the statuesque and legendary integrity of Father Geek.