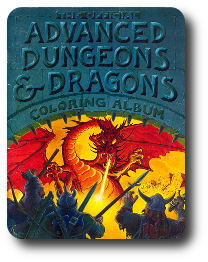 The 1979 Official Advanced Dungeons & Dragons Coloring Album, illustrated by the late Greg Irons and written by the late Gary Gygax, has long been nothing more than a fond memory of my childhood years. Imagine my excitement and the overwhelming feeling of nostalgia when I was passed a web site that had ALL the pages from the coloring book available for download!
I immediately downloaded all the images and put them in a word document so I could print off a copy of the book for my little geeks to color in….and yes, for me, too. Oh, how I loved this book when I had it! My copy already had several pages colored, of course, but I didn't care. Actually, I think I purchased this when I was a kid from one of the neighbors as a garage sale, but the specifics have long since been lost to faulty memory and time.
What was never lost was the thrill and love for the fantasy genre. Specifically, the monsters, lore, and heroes of the Dungeons & Dragons universe. I have spent many, many hours playing epic games of fantasy with my friends in grade school, junior high, high school, and college. Much less now as I spend most of my time either working or paying bills, but I still have all the books, every character I have ever made, and all the maps and notes I ever jotted down. Even at a very young age, I knew that I should keep what I was working on as I would want to look at them again and again as I grew older.
What really made this coloring album so much fun was the story and the game you were able to play using it. There was an entire adventure the reader could play solo or with a group of 3 other friends. An adventure, I might add, that was written by the father of role-playing games, Mr. Gary Gygax! I challenge you to go find a coloring book this cool on any store shelf today!
I mean, jeepers! Just read this intro text, look me in the eyes, and tell me you are not super excited! I DARE YOU!
Stop what you are doing and go get these images now before some horrible licensing and trademark legal action is taken and these wonderful illustrations are lost once again to time and space!
UPDATE!
Turns out I am not the only one who has a special place in his heart reserved for this coloring album. Children's book author, bioengineer, robot engineer, and fatherly geek, Dr. Todd Edwards, still has his original copy of the coloring album! He sent us the following picture as proof. Not that we'd think he was lying…although, he is sneaky….
Outstanding! Sharing your passion with your little geeks is what it's all about, folks! The ever-growing roster of little geeks continues to grow, as does the list of parents who have a fulfilling relationship with their children. Who knew that a coloring album from the late 1970's would bring so much joy over 32 years later? If Greg and Gary are looking down on us, I bet they are smiling!
Thank you, gentlemen. You continue to entertain and excite the creative and imaginative people of the world, be they in their 30's or 3-years old.