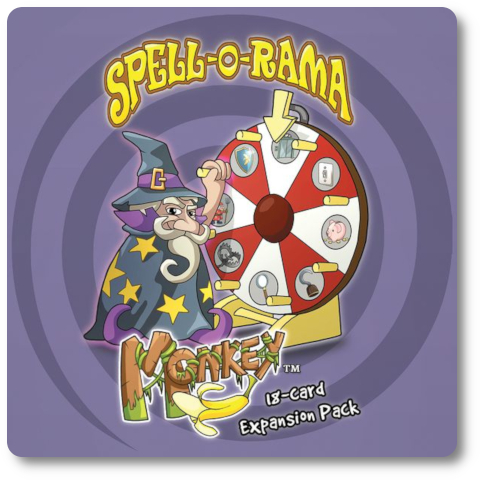 The Basics:
For ages 6 and up
For 1 to 5 players
Approximately 30 minutes to complete
Geek Skills:
Counting & Math
Logical & Critical Decision Making
Reading
Memorization & Pattern/Color Matching
Hand/Resource Management
Learning Curve:
Child – Easy
Adult – Easy
Theme & Narrative:
Endorsements:
Gamer Geek rejected!
Parent Geek approved!
Child Geek approved!
Overview
The crazy wizard, Kurgill, is back and he has brought with him a slew of new spells to cause mischief and mayhem. He even brought his mom! Just when you thought it was safe to climb a tree, this expansion adds more falls, traps, and trips to make a monkey's day on the branch a precarious endeavor.
Monkey: Spell-O-Rama, designed by Rob Gosselin and published by Birdlight Games, is comprised of one Reference card, one Character card, and 16 Spell cards. The cards are as thick and as durable as your standard playing card. Artist Oscar Linder returns and adds more minimal, but colorful, illustrations making this expansion fit seamlessly with the base game.
Note: Monkey: Spell-O-Rama is a game expansion. We will not be describing how to play the base game here. Read the Monkey game review for full details on game play.
A Bit More Monkey and A Lot More Spells
Monkey: Spell-O-Rama comes with a new monkey Character card, allowing a fifth player to join the game. Her name is "Hoopsie", apparently (according to the game documentation).
The real value of the expansion is the new Spell cards. Players can either substitute seven specific Spell cards from the base game with those from the expansion or put all the Spell cards together from both the base game and the expansion, but only seven are picked (at random) to play with from the group. We preferred randomizing our Spell cards, as this subtle shift in the game set up added replay value.
The new spells include the following:
Banana Ka-Blama: Sounds like an expensive drink with way too much rum. Toss this explosive banana to steal two random cards from an opponent of your choice.
Bear Trap: As if there weren't enough traps in the tree as it were, play this card and add some more.
Elevator: The monkeys on the lowest Tree position go up one and the monkeys on the highest position are lowered one.
G-Momma: This old hag has a new bag of tricks. Draw the top-most Tree card to determine your fate! Odd valued cards cause you to discard your hand and lose a turn, but if you reveal a even valued card you drop to the bottom of the Tree and lose your turn. No one likes G-Momma…
Hook: Yar! Pass yer hand to the left and be taking the hand to yer right!
Magnifying Glass: With this stealthy tool, you can peek at the top cards of the Spell deck or the top cards of the Tree deck. The number of cards you can look at is equal to the number of players. Once you have a look, return them to the deck in any order you like.
Piggy Bank: Name a color (except black or "wild") and every opponent must give you cards in their hand of that same color. KA-CHING!!!
Spectacular Shield of Mind-Boggling Shininess: More than this years "must have" accessory item, this shield will cancel any Spell card you draw, but only once.
Switch: Swap any card from your hand with a Trunk or Treetop card from the tree.
Game play, other than the effects of the new Spell cards, is exactly the same as noted in the base game.
Final Word
The expansion, while fun to play with, did nothing to change the attitudes of our players. In fact, the expansion fits so seamlessly with the base game you cannot tell it's there unless you took special note of it during game setup. If the players already liked the game (like the Parent and Child Geeks), the expansion was well received. If the players weren't fond of the base game (the Gamer Geeks were not fans), the expansion only further reinforced their dislike.
Adding a fifth player, surprisingly, didn't make for a longer game. The game play is still fast and the level of thought and engagement never shifted. What does change with a fifth player is the number of times your monkey could be kicked around. However, the game designer had the foresight to include the setup rule to remove Spell cards from game play, ensuring the shenanigans that befall your beloved simian are always balanced between actions taken and effects resolved. A nice touch.
If you like Monkey, then this expansion will be well received, but I hesitate to suggest it's a "must have". Because the expansion does not build upon the base game, allowing players new pathways to victory, it's something I would only consider adding to my collection to ensure that my future games always have a random Spell distribution. Which is a good thing. Give this expansion a try the next time you and your fellow monkeys are swinging from the tree.
This game was given to Father Geek as a review copy. Father Geek was not paid, bribed, wined, dined, or threatened in vain hopes of influencing this review. Such is the statuesque and legendary integrity of Father Geek.