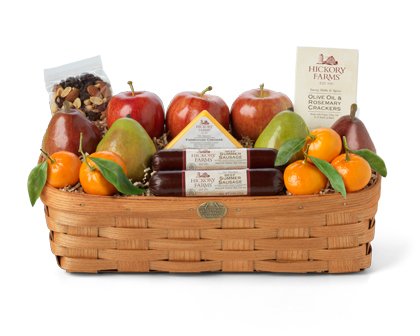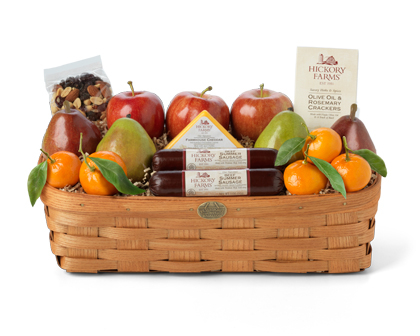 When I was growing up and was just a little geek myself, I remember my family walking by the Hickory Farms vendors who always magically appeared in the local mall around the Holidays. Baskets of cheeses and meats, fruits, and sparkling juices were festively prepared and displayed in abundance. For that reason, I have always associated gift baskets with the holidays and to this day find myself gravitating towards the Hickory Farms vendor in my mall and flipping through their gift suggestion catalog when it arrives in my mailbox.
One year, when I couldn't have been anymore than 10 or so, my family was sent a big gift basket that had crackers, sausages, and different cheeses. It even came with a knife and a cutting board! My two younger brothers and I hovered around the basket like ravenous wolves, eager to rip into it with reckless abandon. My mother had other ideas and displayed it on the table for all to see. It was a source of family pride, oddly enough, and also a form of torture. The colorful cellophane that ensnared the good eats was clear enough to show everyone what wonders awaited within, but was thick enough to keep prodding fingers at bay.
Eventually, my mother did open the basket and we enjoyed the contents. My two younger brothers and I ate small cracker-meat-cheese sandwiches while we watched a Charlie Brown Christmas on the family television set. Even now, in my thirties, I remember how good those sandwiches tasted. A strange memory to keep and hold close to my heart. Now, with children of my own, I of course want to share those things that make me happy with them in hopes of making them happy, too.
Eating Memories
When I was contacted and asked if my family and I would be willing to try a Hickory Farms festive basket full of goodies, I eagerly accepted and immediately contacted my wife with the good news! Here response was much less enthusiastic and exceedingly much more down tempo then my fever pitched excitement. As a geek, I've been known to and have the habit of getting overly excited and a basket being delivered to my door full of meats and cheeses and other goodies is most definitively something to get excited about.
When it arrived, our family went through the basket's contents. None of this displaying on the family table nonsense for us (sorry, Mom)! We are a hungry lot, after all. Have you ever seen how much kids can eat? It's insane! And I have been told it will only get worse as my little geeks enter their teenage years. I can already see myself getting a second job just so I can help fill the black holes that are my children's stomachs.
We received the Hickory Farms "Orchard's Bounty Basket" that contained Fuji Apples, Mandarin Oranges, Red D'Anjou and Crown Comice Pears, the Hickory Farms signature Beef Summer Sausage, Farmhouse Cheddar and roasted mix nuts in a keepsake Peterboro Basket (which my wife immediately claimed and I have not seen since). The entire package – er – basket was a work of edible art, and like all art, it exists to be enjoyed…which we did…with our mouths.
All the food stuffs that came in the basket were exceptionally tasty. There were two big drawbacks to this. First, the basket is limited and is not an endless source to be tapped into whenever you want to get some good food in the belly. Second, my family is rather large which meant that the contents of the basket were quickly thinned, divided, and eaten. I think I might have had a bite of pear, some sausage, a bit of cheese and an edge of a cracker. The rest of the food was claimed and munched by the rest of my clan without so much as a second thought.
But that is entirely a very good thing, as I was able to share a small piece of my childhood with my little geeks and perhaps, just perhaps, made this Holiday season just a bit more special. I shared with my little geeks the memories I had as I tried to sneak a bit of food from them. They were quick to slap my hand and ask me questions about how things were in the "old days" when I was a child. Did the food come in baskets, too? Did cheese and sausage exists then? I was very pleased (if not somewhat put out) to tell them that all the great things I remembered were still very much alive and well in today's offering. This seemed to please my little geeks as much as it pleased me.
My wife and I made a special bowl for each of our little geeks and put on the classic stop-motion animated 1964 Rudolph the Red Nosed Reindeer for them to watch. As we laughed, sang the songs, and ate the food, I was filled with a feeling of happiness and contentment.
Or, maybe it was the summer sausage. That stuff is good!
I wrote this review while participating in a campaign by Mom Central Consulting on behalf of Hickory Farms and received a product sample to facilitate my review and a promotional item to thank me for taking the time to participate. I ate the product sample, but not the basket, as that would be silly.
Hickory Farms announced a new 3-day shipping for $3 promotion on all gifts this holiday season to ensure freshness and value. For more information, please visit hickoryfarms.com