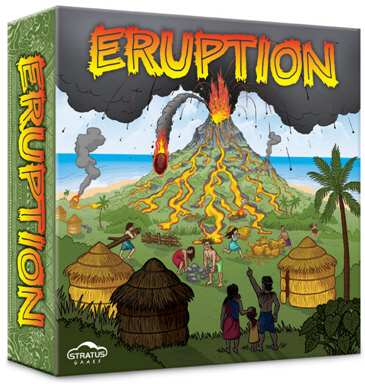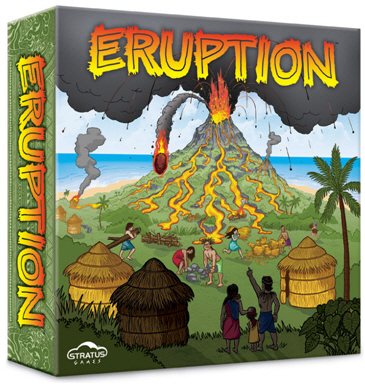 Stratus Games recently released a preview copy of the upcoming game, Eruption. The game was delivered as a downloadable PDF with all the final artwork and rules included. All that I had to do was print it out on cardstock, cut it, build the game, and play it!
As easy as that sounds, it actually took me a few evenings and a trip to the office supply store to complete. Eruption is beautifully illustrated and very, very colorful with lots of bits. That took a tremendous toll on my color printer which was wheezing from exhaustion after it completed the print job. The end result was fantastic, but slightly subdued. My color printer is not the high-end kind and it showed. The colors were dull, but the images were crisp.
After printing all the components, cutting out all the bits, and building the game board, I was left with a fantastic looking game that was also a giant tease. What I saw before me was a beautifully illustrated game terribly butchered by my clearance priced color printer and shoddy cutting job. It still looked great, though, which is a true testament to the level of detail Stratus Games put into the illustration and game design.
But a pretty picture does not a great game make. I've played many flashy games where the components were high quality and gorgeous to look at , but the game play was lacking (cough*cough*City of Thieves*cough*cough). Nothing more disappointing than having a beautiful looking game you really don't enjoy playing. Like looking at a delicious roasted Turkey only to have it taste dry and in need of gallons of gravy. And yes, I realize my wife might very well be reading this, and as such is the case, her Turkey has always been moist and succulent.
Game play is very straight forward and easy to teach, as well as learn. So much so that my middle little geek (age 4) was able to make important game choices with little to no help from his parents. My 7-year old was playing solo and was giving his old man a run for his money. I would like to say this is because my little geeks are super mutants with an incredibly high level of intelligence, but the real credit goes to Stratus Games and the game's intuitive play.
The game objective is easy – avoid getting burned. We learn this simple truth very early on in our lives when we touch the stove for the first time, get burned, and know not to do that again. The same applies here. The players do all they can do avoid getting their village destroyed by redirecting the lava flow into the ocean or into their opponent's villages.
But just because the game play is straight forward and intuitive should not imply Eruption is a simple game. The game demands a surprising level of focus from the players as the game heats up. At first, everyone is more or less playing cooperatively, doing what they can to direct the lava away from the villages. It is in every player's best interest to keep the lava flow under control as long as possible as the game quickly becomes more difficult as it starts to burn the villages. Eventually, the lava finds its way to a village and the game becomes more difficult for all the players. Instead of cooperating, the players now actively try to burn the other villages and keep theirs safe.
Surrounding the game board is a Burn Meter which acts as a score tracker as well as a game phase changer. When a village starts to get burned, the game begins to ramp up, picking up speed and increasing difficulty. There is no turning back in the game, meaning players must adapt or get overwhelmed quickly. Lucky for all the players, they have action cards that can be used to redirect lava and help control the burn. There are also walls the player's can build to help protect them from the lava, but these walls tend to fail and it is literally a roll of the dice to see if they can withstand the heat.
The end result is an exciting tile-laying game that is one part race, one part cooperative, and one part full-out backstabbing. The game ends when a player's village burns to the ground or there are no more lava tiles left. Either way, when things start getting tough, the players will start focusing on burning their opponents to make the game end as fast as possible so they will sustain the least amount of damage. Usually you would consider wanting to rush the game to completion as a negative, but in the case of Eruption, it's a question of survival!
Eruption is a fantastic game and I will be releasing a full review at a later date when it comes out. After multiple plays with a number of people, the game was loved by Gamer Geeks, Parent Geeks, and Child Geeks! That's as good as it gets, people! Stratus Games has got a hit on their hands and I simply cannot wait to get this game to the table when it's finally released in all of its professionally published and produced glory!
If the game sounds interesting to you, Stratus Games is currently offering pre-orders of Eruption until September 30th, 2011. To sweeten the deal, they are offering the pre-order separately or bundled with a number of their other games. This is a great way to get some quality games and secure your early copy of a Eruption for a great price. Status Games is even offering the print-n-play version of the game, but I do not recommend you go that route. The artwork and detail is deserving of a professional print run.
Give the official rules a read and see if Eruption is the right game for you!
This game was given to Father Geek as a review preview copy. Father Geek was not paid, bribed, wined, dined, or threatened in vain hopes of influencing this review. Such is the statuesque and legendary integrity of Father Geek. Father Geek receives no additional endorsements or payment as a result of product sales.