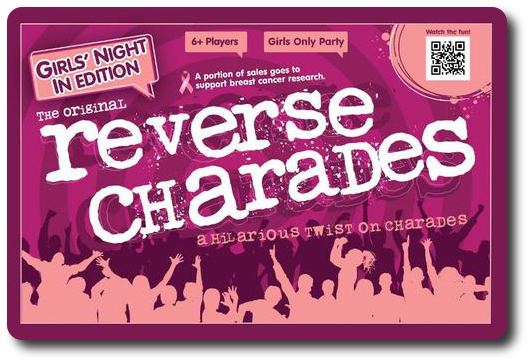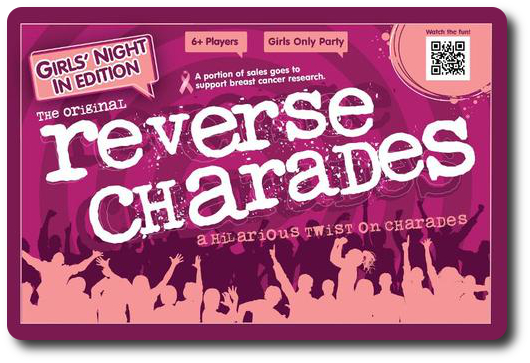 The Basics:
Ages  6 and up
Players 6+
Variable play length
Geek Skills:
Active Listening & Communication
Reading & Writing
Cooperative & Team Play
Learning Curve:
Child – Easy
Adult – Easy
Theme & Narrative:
Endorsements:
Gamer Geek rejected!
Lady Parent Geek approved!
Girl Child Geek approved!
Overview
When the boys are away the girls will play…charades. Well, not just any charades, Reverse Charades with their very own game expansion that challenges the ladies to act out topics that are tailored for players of the female persuasion. Hilarity will ensue as teams have to act out, as a group, plucking eyebrows, scrapbooking, and a trip to the gynecologist. Hurray! Gross! Yeah! Party!
Reverse Charades: Girls' Night In Edition, by Gryphon Games, is an expansion for Reverse Charades or Reverse Charades Junior Edition and is comprised of 110 Word cards (double-sided) which provides 220 new "girly themed" words and phrases for the players to act out. While you do not have to be a female to play this expansion, it certainly doesn't hurt and is a lot less embarrassing (read: scarring).
Wine, Chocolate, and Shaving Legs
Note: This is a game expansion but does not require the full versioned games, Reverse Charades or Reverse Charades Junior Edition, to play. This game can be played as a stand alone or added to the other full versioned games seamlessly. Additionally, this game has been designed to easily fit in the boxes of the full game versions, making storage a snap.  It is assumed you, the reader, are already familiar with Reverse Charades or Reverse Charades Junior Edition in regards to game set up and game play. If not, you've got some reading to do.
As previously noted, this game expansion contains 220 words and phrases that most women will understand and most guys will not want to admit to knowing. While the base game is gender neutral, this expansion is specifically designed for the Lady Geeks. Of course, guys can act out the words as well as the ladies, but they will hate themselves afterwards, feel the need to run into the woods naked, and beat their chest to prove their manhood while hunting small animals with sharp sticks. Or, and a better option, "just get over it and play the game already." Or, the best option, go watch football.
New words include topics that cover personal hygiene, romance, and even medical procedures. Keep in mind, all the words are slanted towards females, so most guys will cringe at the idea of acting any of these words out, let alone think about them in great detail.
There are no additional rules and the expansion does not extend the game play. Based on some of the Word cards, some of the expansion might be inappropriate for Child Geeks. Not so much because of what the word or phrase is, but because there are very few 3 to 6-year-olds who know what a bikini wax is (an example of one of the cards in the game). It is suggested a Parent Geek give the cards a quick look-through before adding them to a game with Child Geeks. Or, don't, and prepare to answer questions from your children you are not ready to yet address.
Your choice.
Prediction
I openly admit I have almost zero interest in this expansion. Any game that is focused on a specific topic is one thing (that's what we call "theme"), but a game that is specifically focused on a gender is something completely different. The last time I played a game of this variety was on a very slow game night where a friend of mine and I played Mystery Date. It was awful, just awful. I never did get to date the jock…
I gave this game expansion to a Parent Geek mom and asked her to give it a go. She was most happy to do so. Lucky for her (and everyone else), the game expansion doesn't add any new rules to the game. All the expansion provides is new Word cards. This makes adding the expansion to the base games very simple and seamless.
Let's give the game a chance with the Lady Parent Geek's party and see how it does. Until then, I'll be in my garage doing manly things.
Final Word
The Child Geeks who played with this expansion were (1) girls and (2) old enough to know what a bikini wax was. I don't care to know how or why, but there you go. For them (the youngest was 10), they had no problem understanding the words and acting them out. They enjoyed it, found the game to be a great deal of fun, and enjoyed the bonding with the other players. I should also note that all the other players were girls, too. Some of the Word cards were, however, considerably out of reach for the Girl Child Geeks. These words were removed from the game prior to play for reasons of decorum, if nothing else.
The Parent Geeks (who were also all women) enjoyed the new Word cards, too, and thought it was hilarious to act out "gal only" events. To them, the game became more personal and personable, and in some cases, a bit hurtful. For example, I was told that none of the Lady Parent Geeks wanted to put much effort into acting out a mammogram. Despite this, the expansion was very well received and fully endorsed!
Note: No guys, dudes, men, or gents were asked to partake in this expansion out of fear of being punched.
I personally think this expansion is flawed. It is specifically geared towards the ladies (which isn't a problem), but it automatically excludes the men. Since Reverse Charades is a party game, it seems to be a misstep in a very anti-social direction to exclude half the members of a possible party. Now, admittedly, this is a game expansion and the base game (which is gender neutral) must be included, but when was the last time you purchased an expansion that asked half the players who usually sit at the table to kindly leave? Not often, I'd wager.
Of course, there is a benefit to releasing a game expansion to address a specific event or demographic. It helps to bullseye the marketing campaign and can be leveraged in a very powerful way. I just don't think this expansion will do much to  further sales of the base game, nor do I think it will generate much interest in the geek-o-sphere as a whole. Then again, I'm a manly-man and I know nothing of what goes on in the mind of a woman (ask my wife). Still, the Girl Child Geeks and the Lady Parent Geeks greatly enjoyed it and found it to be an excellent medium to do some "sisterly bonding". I guess any expansion that can make BFFs even BETTER BFFs isn't such a bad thing, even though it excludes the opposite sex. Then again, I really don't think the guys mind and welcome the opportunity to run for the hills.
If you enjoy Reverse Charades or Reverse Charades Junior Edition and are looking for a game that is perfect for a girls' night, Tupperware parties (do they even have these anymore?), baby showers, sleepovers, makeup get togethers, bachelorette parties, or whatever else it is you ladies do that I will never understand, then do look into getting Reverse Charades: Girls' Night In Edition.
In other news, I have just lost any and all of my manly geek street cred.
This game was given to Father Geek as a review copy. Father Geek was not paid, bribed, wined, dined, or threatened in vain hopes of influencing this review. Such is the statuesque and legendary integrity of Father Geek.