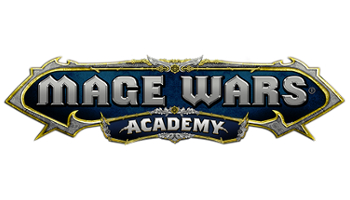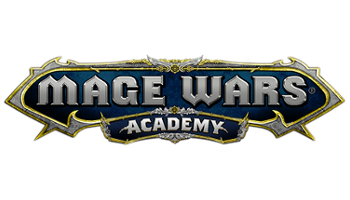 Mage Wars Academy was a huge hit with our playing groups, proving to be a game that was fast and fun for everyone. But there was one thing the game didn't have that all our players demanded: more cards. It comes as no surprise that the core game had enough cards to play and build custom Spellbooks, but not enough to truly create exactly the kind of Mage a player wanted.
Expansions for the game are coming and the images shown here are meant to demonstrate the goodness they will contain. For those of you who enjoy spending hours theory crafting and designing killer decks, these new cards should start to give you ideas on how to build your new Spellbooks. For those of you who just enjoy casual game playing and want a new Mage, these cards will give you a good idea of the fun that is to come.
It's worth noting that each of the new cards will be formally assigned a specific discipline. However, cards can be used by Mage with very few exceptions. This will allow players to slowly integrate the new cards into their preexisting Spellbooks, test and experiment at their own pace, and modify their Spellbooks over time. Ever fight a Warlock Priestess before? No? You are about to get your chance.
Check back often, as new cards will be added as they arrive…
The Priestess
First up, the Priestess Expansion! Spells that focus on healing? You bet! And protection? Don't even doubt it! What I look forward to seeing are spells that allow the controlling of foes and slowing them down. While a Priestess is second to none when it comes to healing, a Mage needs to do more than patch wounds to survive their final test at the Academy! Which I am pretty certain the Priestess will do. Here is a discipline in the academy that knows when to turn the other cheek and when to smack back. While the primary focus of a Priestess's education is built around the need to maintain balance and harmony, everyone knows that it sometimes takes a kick to groin and a well placed blessing to knock the universe back into order.
The Warlock
Second up, the mighty Warlock. A truly unique and mysterious student of the academy. Warlocks tend to be secretive and spend long hours studying old manuscripts full of forbidden knowledge about summing goodness knows what. It would be incorrect to suggest that a Warlock is evil, but one cannot doubt that a Warlock has dealings with many denizens that civilized individuals would consider rather foreboding, if not insufferably rude. Nevertheless, the Warlock trudges on and is enlightened, having access to power that is both terrible and wonderful. Making an enemy of a Warlock is unwise. Making a fried of a Warlock is near impossible.