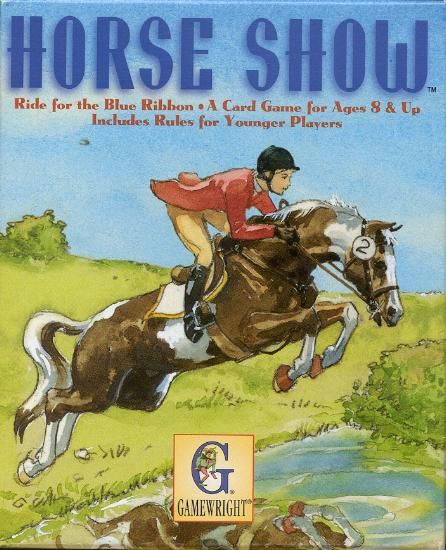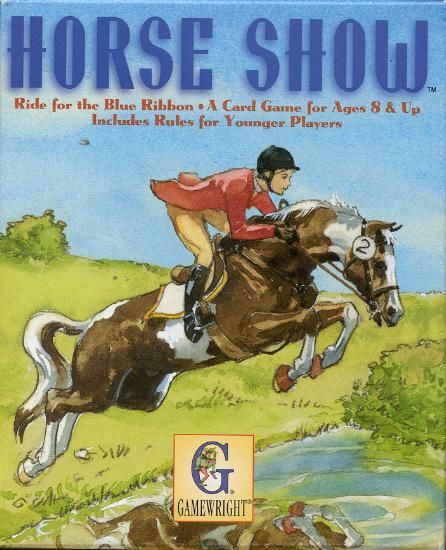 The Basics:
Ages 7 and up
For 2 to 4 players
15 minutes to complete
Geek Skills:
Counting & Math
Reading & Writing
Learning Curve:
Child – Easy
Adult – Easy
Theme & Narrative:
Endorsements:
Father Geek rejected! (marginally)
Child Geek approved!

Overview
Disclosure first: my children received this game as a Christmas gift from a very dear gamer friend of mine who is likely to read this review. I can assure you, however, that I have endeavored to remain an impartial reviewer, in accordance with Father Geek's exacting journalistic standards! Besides, my friend would not expect anything less.
Gamewright market several card games intended for younger school aged children at an attractive price point. Most of the titles that I have played are barely worth playing, so much so that I have almost ceased to be disappointed by them. Duck, Duck, Bruce! is a notable exception. Therefore, it was with considerable trepidation that I embarked on this new gaming adventure.
Horse Show is a game in which players' horses compete in four types of events (dressage, jumper, equitation and hunter), with the aim of winning the most ribbons. A deck of 44 cards (32 individually named horse cards and 12 assist cards) is divided equally between the players, providing each of them with a "stable" from which to select entrants. Each horse has a rating from 1 to 6 in each of the four event types. Each assist card gives a bonus of 1 or 2 points in one type of event.
The game consists of four shows, each consisting of three events, drawn from a deck of 15 cards. Hosting rights are rotated between the players. Each event card indicates the event type and also nominates individual horses that attract an additional point bonus or penalty because of "local conditions" (e.g., judge bias). Players then select 5 cards from their stable to take to the show.
For each event in turn, players select simultaneously which cards from their hand of 5 to enter in that event, with an entry comprising one horse card and any number of assist cards. The horse's performance in that event is the total of its base rating, points from assist cards and any local bonus/penalty. The horse with the highest score wins that event; each horse also has a tie-breaker rating to resolve ties. Cards entered in an event cannot be used again until a subsequent show.
Cards used to win events are removed from the game, while losing cards are returned to the stable and can be used again in future shows.
Final Word
This game is very much determined by luck of the draw. If you own a horse that is favored in a particular event, it is usually best to enter that horse. According to the publisher, winning strongly early in the game might not be ideal because it reduces your arsenal later in the game. However, since any given horse can only win one event per game anyway, there seems to me little point in "keeping one's powder dry". Thus, in my estimation, there is very little scope for exercising judgment and any apparent choice is largely illusory.
That said, this is not an awful game, merely a mediocre one. My children enjoy the game, much for its novelty value (I hope, because I know the novelty will wear off), and for the adults it is bearable if not especially enjoyable. For now, though, I am not grumbling too loudly when my children suggest playing it. My 4 year old daughter, whose attention span for games rarely exceeds 5 minutes, enjoys the theme and remains interested for the duration of the game (but she has to partner with an adult rather than playing independently). My 5 year old son relishes the opportunity to showcase his reading and arithmetic skills.
Horse Show is almost too simple to qualify as a game, but its few redeeming features ensure that it will not be put out to pasture just yet.