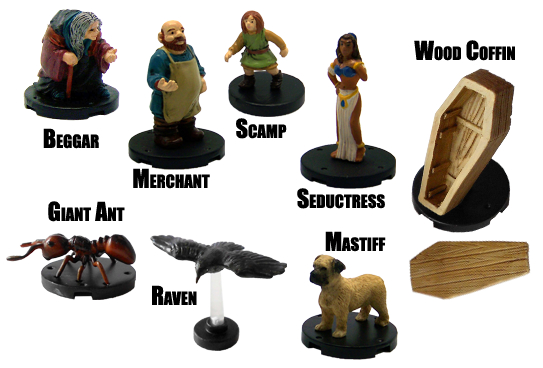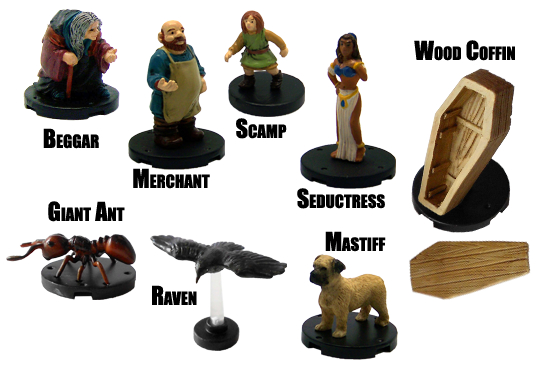 The Basics:
Town Folks (4) and Omens (4) 25mm to 30mm plastic miniatures (tiny to medium)
Compatible with same sized miniature scale
Genre neutral and pre-painted
Geek Skills:
Learning Curve:
Theme & Narrative:
Now you can introduce the village commoner to your game settings and as well as signs of dark things to come…
Endorsements:
Gamer Geek approved!
Parent Geek approved!
Child Geek approved!
Overview
Something wicked this way comes and that's always bad news for townspeople! Does the raven circling over the road speak of evil things to come? Why does the dog bark incessantly at the strange old beggar? And what could it mean to have a coffin delivered to an empty home and suddenly see a strange, beautiful woman walking the cobbled streets at night under lantern light? These are just some of the many different scenarios you can act out in your own games or game systems using the new line of pre-painted miniatures from the Dungeon Crawler universe.
Town Folk and Omens are the second and third release of miniatures inspired by the Dungeon Crawler universe. Town Folk includes a scantily clad seductress, a pot-bellied merchant, a haggard old beggar, and an impish scamp. Omens includes a dark winged raven in flight, a giant mutant ant, a gruff mastiff, and a wooden coffin complete with removable lid. Like the From the Depths release, all the miniatures come pre-painted and detailed.
The goal of this release is to provide the owner a collection of miniatures that are compatible with just about any game system that uses miniatures in the 25mm to 30mm range. They are also meant to be genre and narrative neutral. The seductress could just as easily be a princess, the merchant could be a gruff innkeeper, the beggar could be a witch, and the scamp could be a hobbit. The miniatures in Omens do not have this level of flexibility  however, as the animals they represent are clearly detailed. They could, however, be included in any genre with ease.
Slightly different from the first release of miniatures is the availability of non-painted "neutral" miniatures of the same type.  They are made of the same mold and have the same level of model detail, but come unpainted. An individual who is looking to add their own special mark can buy the ready-to-paint version and detail it as they will. This is an excellent step in the right direction and a smart move. The miniatures are now positioned to not only be easily added to many games, but can now also be painted and customized to fit a player's specific needs.
To learn more about the Dungeon Crawler Minis Town Folk and Omens miniatures, see the product's official web page.
Prediction
I have no doubt that my little geeks will love these miniatures as much as they loved the first release in the Dungeon Crawler Miniatures universe and spark their imagination. My little geeks create their own games and play with their toys in a way that leads me to believe there is nothing more interesting in this world than a child's imagination. These miniatures, pre-painted and ready to go, will easily slip into their game play. Perhaps they will join Optimus Prime in his struggles to keep the Earth safe? Or, maybe, they will be used with the LEGO characters and be part of an epic brick castle raid? There are no limits.
The first two little geeks to get their hands on the miniatures were my 3 and 5-year-old. Their older brother was not yet home from a school activity and they benefited from his absence greatly. The immediately laid claim to the miniatures and talked excitedly to each other about how they could use them. Before I let them go off and create their own adventures, I asked them both what they thought of the miniatures so far.
"Really neat! I like the coffin and the dog the best!" ~ Nyhus (age 5)

"Doggy goes rough-rough, Daddy!" ~ Ronan (age 3)
Looks like they not only recognize the miniatures for what they are, but have already decided which are their favorites. Let's turn them over to the little geeks to see how they fare, durability wise, and then we'll add them to other games to see how they work.
Final Word
Like the first release, the new Dungeon Crawler Miniatures were a huge success with my little geeks. A true testament to the design, they all fit seamlessly in with the games the Child Geeks played. This time around, the games the little geeks used them in were more to scale and the interaction between the miniatures and other toys was more intense. This might have to do with the age of my children or the fact that the new miniatures represent more common "things" that the little geeks have an easier time adding to their game play. Whatever the reason, they played with the miniatures and loved them.
Gamer, Parent, and Child geeks will all welcome these miniatures at their game table as they fit perfectly with multiple game themes and narratives. The only negative I heard from the three test groups was disappointment that there weren't more miniatures to play with. For example, the Gamer Geeks wanted more townsfolk to add to their role-playing games, the Parent Geeks wanted more animals (like cats, bats, and horses), and the Child Geeks wanted to see more spiders, snakes, and (believe it or not) a pig.
Personally, I think the miniatures are neat, but I have no need for them. They fit well with the games I have (like Arkham Horror and Betrayal at House on the Hill), but they are not necessary. Where they really shine in our house is in the company of my children who use them often in their games. It is a joy to see their imagination unfold and a true delight to be a part of their adventures. The portly merchant has already saved the seductress twice from the giant ant who lives in the coffin and my oldest little geek is acting out scenes from the video game The Legend of Zelda with the scamp and beggar, pretending the scamp is Link and the beggar is some wise old crone. Simply awesome.
If you are looking for pre-painted, high quality miniatures that fit with many different games and are durable enough to be shipped around in different game boxes, do take a look at the Dungeon Crafter Miniatures.
These miniatures were given to Father Geek as a review copy. Father Geek was not paid, bribed, wined, dined, or threatened in vain hopes of influencing this review. Such is the statuesque and legendary integrity of Father Geek.