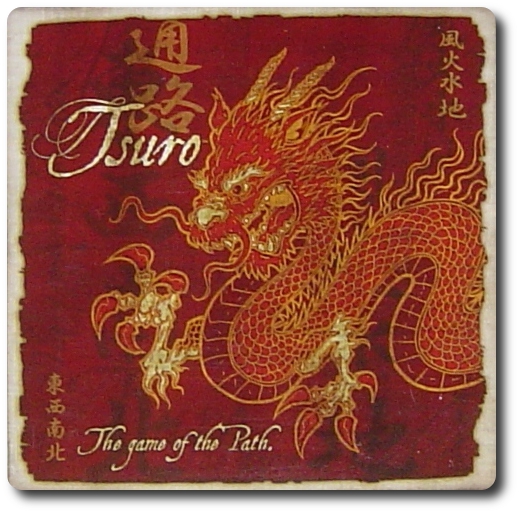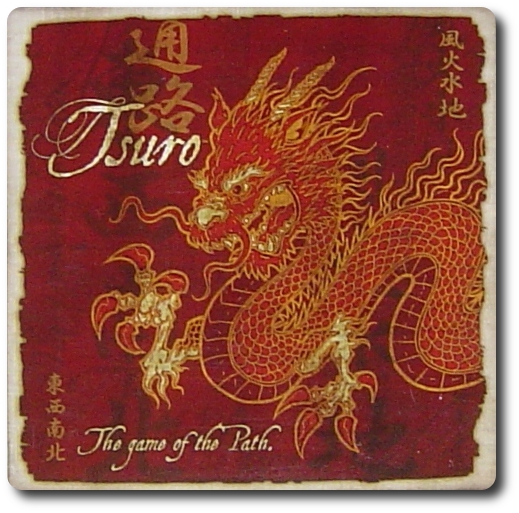 The Basics:
For ages 8 and up
For 2 to 6 players
About 20 minutes to complete
Geek Skills:
Counting & Math
Logical & Critical Decision Making
Pattern/Color Matching
Strategy & Tactics
Risk vs. Reward
Visuospatial Skills
Hand/Resource Management
Learning Curve:
Child – Easy
Adult – Easy
Theme & Narrative:
Endorsements:
Gamer Geek rejected!
Parent Geek approved!
Child Geek approved!
Overview
Tsuro is an easy to learn strategy game that consists of nothing more than laying a lined tile down on the game board, then taking your token and following the path on the tile onto other tiles until the path ends. The goal is to keep your token on the game board, while trying to cause other player's token to follow a path off the game board.
Component Break Down
Game board
36 tiles
8 game tokens
Game Set Up
Layout the game board
Each player chooses a marker
Deal 3 tiles, face-down, to each player
Stack the remaining tiles face-down to be used as the draw pile
The oldest player starts first
On their turn, the player may look at their tiles and then place their marker on a start mark located on the side of the game board
Playing The Game
Tsuro is game that can be taught and played in a matter of minutes. It's very easy to understand the rules, thus making it a great game for children and those who don't want to spend a lot of time learning games with huge rule books. Because there are so few game pieces and games are quick, it's a good game for pulling out of the closet and playing at a moments notice. There is downtime between turns, but the pace of the game moves pretty quickly so you won't spend too much time waiting on others to make their move.
Winning the Game
The winner of the game is the player with the last token on the board.
Final Word
Gamer Geeks, this game is good in short bursts, but it's not something a hardcore gamer is going to play hours upon hours. There isn't a lot of strategy involved and your best plans can be thwarted by someone throwing down a random tile and totally messing up your path.
Parent Geeks, due to the quick set up and easy to follow rules, this is a very good casual game. In addition, my wife likes it because it provides an opportunity for social interaction. You don't have to spend a lot of time planning out your next move which allows for chit-chat with everyone around the table during the downtime.
Child Geeks, of all the games I've played, this is by far one of the most kid-friendly. Probably anyone ages 5 and up can play because there are so few rules, no reading is necessary, and you don't have to hold many tiles in your hand. A 5-year-old might not be able to plan their moves in advance, but it's easy to understand that your piece follows the path until it can't go any further. Highly recommended for kids.
I can't recommend this game enough for little geeks. If they can trace a line with a token, they can play the game. They might not be able to strategize moves in advance, but that's alright. They'll stay in the game long enough to enjoy playing it and spending the time with family and friends. Hardcore gamers won't spend much time with this game, but this is a common game in my local gaming group. We play it while we wait on others to arrive before we bring out the geek-heavy stuff.
Tsuro is definitely worth space on your shelf.