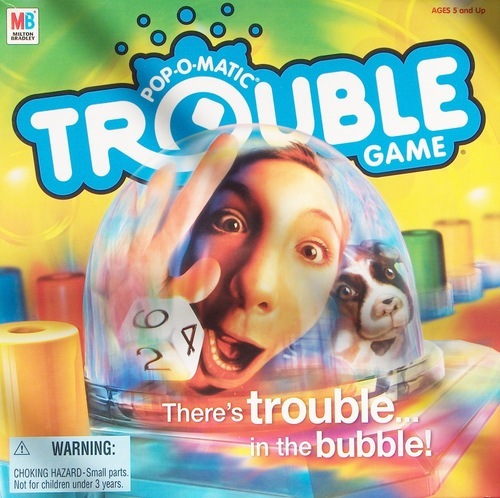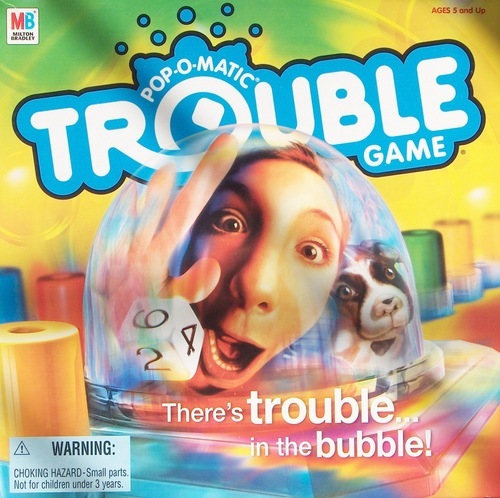 The Basics:
Ages 3 and Up
For 2 to 4 players
15-30 minutes to complete
Geek Skills:
Learning Curve:
Child – Easy
Adult – Easy
Theme & Narrative:
Endorsements:
Father Geek rejected!
Child Geek approved!
Overview
Trouble is a roll-and-move game with players racing to complete a circuit with each of their four pawns. The centerpiece of the board is the Pop-o-Matic, a depressible plastic bubble containing a six-sided die; around this is the circuit, consisting of peg-holes into which the pawns fit snugly. Each player has his own start and finish spaces located at his corner of the board.
On their turn, a player "rolls the die" and moves a pawn around the circuit. A 6 is required to move a pawn out of "home" into the circuit proper, and entitles the player to roll again. When a pawn is moved into the space occupied by another pawn (belonging to another player), the latter is "captured" and sent back home. All moves must use the full value of the die, meaning that movement into the "finish" zone requires that the exact number be rolled.
Final Word
This game is a hit with my children, who were overjoyed when our nanny purchased it for them. (I did not visit any retribution on the nanny, by the way.) From my perspective, it fails on many counts. The Pop-o-Matic has its advantages – novelty value, no cocked rolls, die cannot be lost (not sure if that's really an advantage!) – but its repetitive click, click, click becomes real old real fast.
The game itself has no meat; it is not worth deciding on the "best" move. Player interaction, usually a quality to be desired, is an unfortunate aspect of this game, merely inflicting misery on other players (with a high potential for one player being singled out) and prolonging the drudgery overall. The requirement for particular die roll results (especially 6's) also makes this game overstay its welcome and also tends to leave one player especially disadvantaged.
In case it's not already clear, I don't like this game! And I've only played it once as an adult (I may have played it a couple of times when I was a child). I am resigned to having to play this again in order to keep my children happy: such are the sacrifices we make as parents!