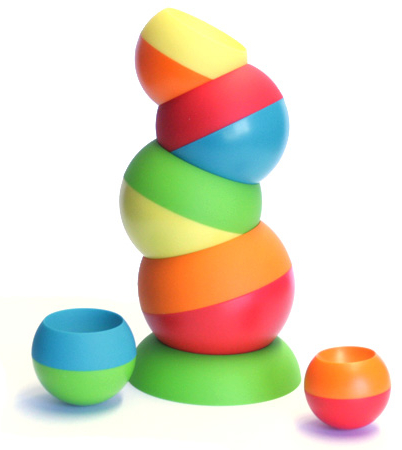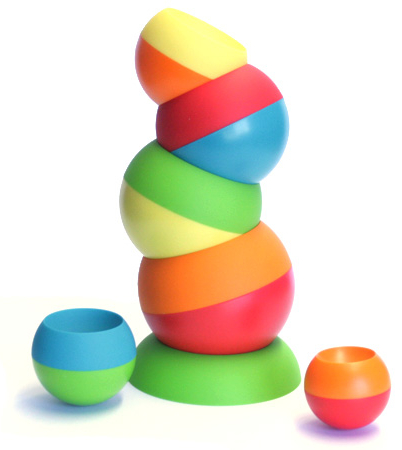 The Basics:
For ages 2 and up
No maximum number of players (best if played with a parent for some cooperative fun)
No time of play duration
Geek Skills:
Logical & Critical Decision Making
Hand/Eye Coordination & Dexterity
Memorization & Pattern/Color Matching
Cooperative & Team Play
Learning Curve:
Child – Easy
Adult – Easy
Theme & Narrative:
Endorsements:
Gamer Geek not applicable
Parent Geek not applicable
Child Geek approved!
Overview
Despite being in my late 30′ s (and, yes, I do find my age to be slightly depressing – thanks for asking), I still play with blocks. Although, these blocks are now LEGOs and I'm creating 3D marvels the likes of which Zeus has not seen. The simple pleasure of building, stacking, and putting things together started the very first time I put two blocks on top of each other as a child. Note I said "blocks". Kids today, since they live in the "future", get to play with spheres.
Tobbles, available from Fat Brain Toys, is comprised of 1 base and 6 spheres with concave tops in different sizes and colors. The colors are bright and all but the smallest of the spheres has a weighted bottom that makes it always come to a resting position with the concave portion facing upward. Think "sippy cup" and you have the general idea of how the sphere's behave. The plastic is solid and easy to keep clean with a simple rinse under a faucet or with a disinfectant wipe. Best of all, none of the pieces are swallowable, which means you can allow your toddler to enjoy the toy without fear of them swallowing or choking on it. They are exceedingly easy to grip, which means that the likelihood of the spheres being thrown across the room is pretty high if your little geek should have a sudden temper tantrum. Durability wise…I don't know. A good solid overhand toss would most likely crack the spheres. I didn't care to test my theory, however.
An Exercise of Balance
Tobbles is meant to stimulate a child's mind and creativity. It'll do the same to adults, too. There is no "goal" or "rules" with the toy, per say, but it will become instantly understood that the spheres are meant to be stacked. The base of the toy lies flat and has a concave portion (like the spheres which, mathematically speaking, are not a spheres because they do not have a three-dimensional surface where all points of which are equidistant from a fixed point) that allows the largest of the spheres to fit snuggly in like a nest. From there, each smaller sized sphere easily fits in the larger sphere below it until all 6 are stacked. Do to their shape and weighted bottom, the individual spheres can pivot, allowing the stack to bend and twist.
Gravity and physics do play a role in the toy, obviously, and there is a tipping point (both literally and figuratively speaking) where the spheres will lose their balance and topple. Again, thanks to the weighted bottoms and the concave portion of the spheres, fallen toy pieces won't roll far. This makes it a perfect toy for learning cause and effect through trial and error with very little downtime between building the stack and chasing the pieces once it crumbles.
As mentioned, the colors are vibrant and will immediately draw the eye. This makes the toy visually appealing and also serves as a medium in which Parent Geeks can start teaching their Child Geeks colors and the finer points of physics.
To learn more about Tobbles and read further information about the toy, visit the toy's web page.
Prediction
The targeted age group for Tobbles is 2-years-old, but I don't think much older than possibly 3 will find much interest in it. At 4-years of age, both of my two older Child Geeks were perfecting the art of building and then wrecking their Jenga towers, as well as building architectural marvels using the blocks in Equilibrio and Architecto. Not to mention the crazy-awesome LEGO vehicles they were making and breaking on an hourly basis. Clearly, there is a sweet spot, so to speak, when it comes to this toy. And like all things that are specifically designed for very little geeks, the Child Geeks will quickly grow out of them.
To test this theory, I put Tobbles in front of my 3 and 5-year-old. I predict my 3-year-old will outlast my 5-year-old when it comes to general interest in the toy. For Child Geeks that are older (and by "older", I mean in the venerable age range of 4 or more years of age), I don't think Tobbles will have much appeal. Oh, sure, it'll interest them, but they'll quickly discover that there is nothing to the toy other than what they see. For Child Geeks who usually play with Transformers and other toys that allow for much more depth of imagination, Tobbles will quickly become stale.
After showing Tobbles to my 3 and 5-year-old, I asked them both what they thought of the toy so far.
"Cool! I like how they all stack together without falling down!" ~ Nyhus (age 5)

"Those are pretty, Daddy! Can I have the toy?" ~ Ronan (age 3)
When I told my youngest that, "yes, you can have the toy", he freaked out with screams of joy and little jumps of pleasure. My 5-year-old joined in more out of solidarity than anything else, I believe. Let's put Tobbles to the test and see if it can stand up to the challenge or quickly falls to pieces.
Final Word
As predicted, Tobbles kept my 3-year-old's interest but not my 5-year-olds. Let's call a spade a spade here: Tobbles is a toy for our youngest Child Geeks. Not a thing wrong with that, mind you, but don't go thinking that Tobbles will have a long life of play and attention at your home if you purchase it when your Child Geeks are well into their 3rd year of their life career. For the younger Child Geeks (ages 2 or younger), Tobbles is sure to please. And as an added bonus, it is sure to please the parents, too.
Tobbles is a simple toy with a simple charm. For adults and older Child Geeks, the full extent of the toy's offering will be maxed out within 1 minute of playing with it. For the younger Child Geeks, Tobbles will continue to fascinate, charm, and educate. You can't explain to a 2-year-old what a weighted bottom is (sippy cups were considered "magic cups" to my little geeks when they were young), and the colors on the spheres practically grabs a child's head by the ears and demands their attention. Yes, this is a very neat and simply little toy that will bring smiles. If you have a little Child Geek roaming around the home on all fours or starting to practice their walking by pulling themselves up, then now is the perfect time to think about Tobbles. If you have Child Geeks who are running around at ludicrous speeds, can pour their own milk, and debate with you the finer points of what makes Super Mario Brothers 3 a work of art, then I'm afraid the window of opportunity has long been shut.
This game was given to Father Geek as a review copy. Father Geek was not paid, bribed, wined, dined, or threatened in vain hopes of influencing this review. Such is the statuesque and legendary integrity of Father Geek.