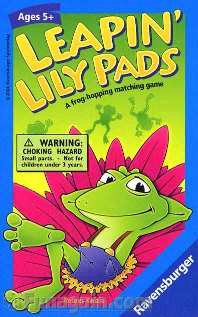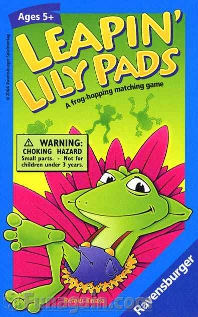 The Basics:
Ages 5 and Up (but my 4 year old has beaten me at it)
For 2 to 5 players (but you could fit in 6 without much trouble)
About 15 minutes to play
Geek Skills:
Counting & Math
Memorization & Pattern Matching
Active Listening & Communication
Learning Curve:
Child – Easy
Adult – Easy
Theme & Narrative:
Frogs jumping around on rocks.
Endorsements:
Father Geek approved!
Child Geek approved!

Overview
When it comes to games that my kids can play, but that I can still enjoy, my "go to" game designer is Reiner Knizia.  He has designed something like 500 games including expansions and remakes, one of which is this little twist on memory games.
In Leapin' Lily Pads, players hop plastic frogs from one rock to another around a small pond of lily pads, trying to collect as many lily pads as possible. The lily pads and the rocks are all cardboard cutouts, and the frogs are plastic figurines. The frogs are all identical, except each has a secret color hidden on the bottom of its pedestal. There is no board. The lily pads have two sides: one side shows a plain lily pad, the other shows a colored flower. The colors of the flowers match the colors on the bottoms of the frogs' pedestals.
You set up the 7 rocks in a small circle and put the 18 lily pads face down in the inside of the circle. Then set the 6 frogs on 6 of the rocks and turn one of the lily pads face up. When it's your turn, hop a frog from one rock to another, and look at the color on its pedestal.
If the color on the pedestal matches the color of the flower on the face up lily pad, you've got a match! Take the lily pad and keep it, then flip up another lily pad.  If you got a match on your turn, you get to go again. Otherwise, it's the next player's turn. Play continues until all the lily pads are taken. The player who has the most lily pads wins.
Final Word
You'd think it'd be easy to remember the colors of each of the six frogs, but the simple fact that they move from rock to rock makes it wonderfully challenging. It adds kind of a "shell game" aspect to it. Young kids can pick their frogs randomly and still get matches occasionally, while older kids can exercise their memory and hone their ability to focus on a constantly changing playing field. Finding a match is quite a thrill for my 4 year old, and my 7 year old is quickly learning how to keep track of all the frogs. When the three of us played just today, I came in last!
The low price point, simple rules, quick play time, and the cute little miniature frogs make this one a win in my book.  And the ecstatic squeals from my girls when they find a match indicates that it's a win for them, too.
A quick side note: Do NOT confuse this game with Leaping Lilypad. Leaping Lilypad is a more traditional spin-and-move board game that I've never played, but looks mind-numbingly boring. Remember, Leapin' Lily Pads — more than one pad, more than two words.