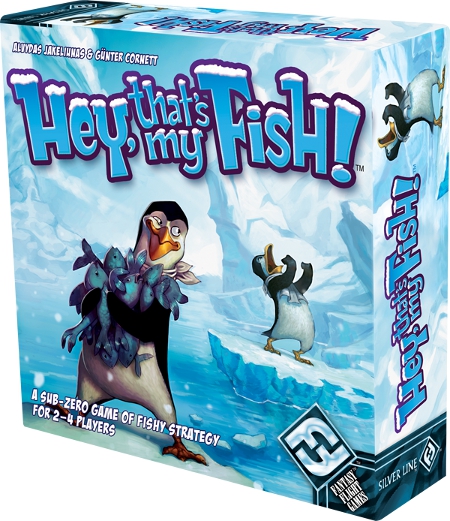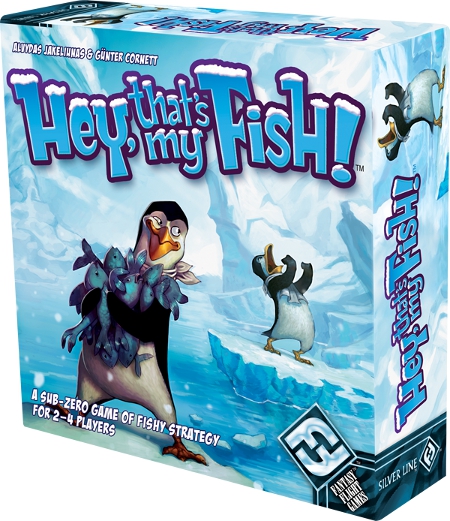 The Basics:
For ages 5 and up (publisher suggests 8 and up)
For 2 to 4 players
About 20 minutes to complete
Geek Skills:
Counting & Math
Logical & Critical Decision Making
Strategy & Tactics
Learning Curve:
Child – Easy
Adult – Easy
Theme & Narrative:
Each player's penguins scurry around the playing area, trying to gather up as many fish as they can!
Endorsements:
Gamer Geek approved!
Parent Geek approved!
Child Geek approved!
Overview
Hey! That's My Fish (or, H!TMF) is a very simple game to learn. In reality, it is an abstract game, with perfect information. As such, it would provide a great stepping stone for games such as Chess. Chess has three primary strategic elements: time (who has the initiative), space (including freedom to move) and material (who has the most valuable set of pieces on the board). H!TMF has two of those three elements, time and space. Since everyone has the same number of pieces that all behave the same way, material is not an issue. The theme really isn't present, but does allow for a cute presentation.
H!TMF is simple enough for your average 5-year-old to play. However, it's a GREAT game for any age! Your little one will understand what they are doing, but the strategy is a bit deeper. When I really love it, is when the kids leave the table and the gloves can come off. About halfway through the first adult game, most people have "The Great Light" flash on in their head and they realize this is pretty vicious game as everyone tries to cut their opponents off and strand them in a corner. A vicious little abstract that plays up to four people in 20 minutes? I'm all over that!
Component Break Down
In addition to the sixty tiles, which have one, two or three fish on them, each player has his or her own color of penguins. With each publication of the game, the penguins have changed, going from flat wooden pieces to fully painted figurines to monochrome figurines. No matter which version you own, the penguins are more than serviceable, and the tiles are sturdily made.
Game Set Up
Sixty hexagonal tiles are laid out in rows, making the "board". Each player takes a turn initially placing his or her penguins on tiles.
Playing the Game
How does it play? After penguins are placed, players take turns moving their penguins in one of the six directions through the sides of the hexagonal tiles. After a penguin has moved, the owning player collects the penguin's start tile from the board, leaving a hole. Penguins can move as far as they want until they either run into another penguin or a hole, at which point they stop.
Winning the Game
The game is over when no one has a legal move left. Each player counts the fish on the tiles they have collected. The player with the most fishes wins!
Game Variants
Because the "board" is created by placing tiles, the setup can be varied. We have played this game by arranging the tiles into a big hexagon and other shapes just to change things up. Game play doesn't vary, but different configurations have a significant impact on how quickly the layout divides into separate playing areas.
Final Word
H!TMF is a game that spans generations, which is what makes it such a great family game. It's easy for me to see a family around the dining room table with the serious gamer, the kids, and grandparents all having fun with this game. The simplicity of the rules makes it instantly accessible for everyone. Gamers find the strategy appealing, and the game becomes ruthless with only adults in the mix. Parents are developing the strategic thinking skills of their little geeks, and the children are playing a cute little game about feeding animals.
It is this simple game play and cute figures that leads to the one real issue H!TMF has. My young teenager sees this and thinks of it as just a "kid's game". Most people do not see it that way, but I can see how a young adult might want to separate themselves from it. So, while it is a great family game, and I can't say that enough, not everyone in the family will rave over it. That's true for any game.
All of that being said, this game is one of my favorites as either a filler or as a game to bring out with children. In fact, we have given this game as a gift more than once as a birthday present and it is always a hit. At the same time, I have had adults play this repeatedly; this works great as a quick, cutthroat experience. In my mind, Hey! That's My Fish is a must-own game.