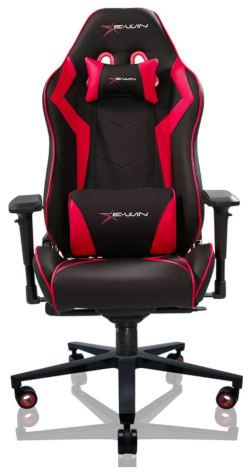 The Basics:
Gaming or office chair for gamers
Stylish and super easy on the eyes
High quality and durable
Endorsements:
Gamer Geek approved!
Parent Geek mixed!
Child Geek approved!
Overview
The French dramatist and one of the three great playwrights of 17th-century France, Jean Racine, said, "On the throne, one has many worries; and remorse is the one that weighs the least." We had a chance to test-drive a throne – a gaming throne – to see if Monsieur Racine knew what he was talking about. Although, we must say, after the time we have spent on it, we are of a mixed mind.
What You Get
We were offered an opportunity to use, abuse, sit, roll, and relax in an E-WIN gaming chair.  For the record and all that, I must say this is the first my team and I have been offered a chance to review what many would consider "furniture." Indeed, as a gamer who enjoys passing the time at a table and in front of the computer monitor, I have done my fair share of sitting down. One might even call me an expert at it. And while I thought myself up to the task, my oldest son was the one who stepped forth and shouted dramatically, "Hell, yes, dad, get this chair!"
So that's the origin story, as it were.
When the chair arrived, it was a rather big box. Nothing special and rather bland. The inside components are exactly what you would expect—packed, in pieces, with various nuts, tools, bolts, and an instruction booklet. Of particular note here is that a pair of white gloves are provided. Why might you ask? Yes, so did we. Was E-WIN suggesting that using their gaming chairs deserved the preferential "white glove" treatment? Turns out, yes, and also no. While getting a lot of chuckles, the white gloves also provide the individual building the chair an opportunity to protect their new purchase from unwanted fingerprints. Oh, and dirt, grease, and anything else that a gamer cannot be bothered with.
A nice touch of class, in my opinion.
The instructions to build the chair are pretty straightforward. It's designed like a flow chart that provides the reader who dreams themselves a would-be chair-builder clarity of subsequent actions and where to place bits in various sockets. I would suggest the instructions are a little bit better than IKEA in their approach, which is to say, lots of pictures and little words, which is fine if you are a visual kind of person. Which I am. We had no problem building the chair in less than 30 minutes.
And, oh boy, what a beauty she was when she was finished. What started as little more than a weighty box of "stuff" was now a magnificent EWin Champion Series Ergonomic Computer Gaming Office Chair with Pillows. A racy red and black striped chair where my buttock could take up residence in comfort.
Leather? Check. Every inch of this seat is covered with stain-resistant 2.0 PU leather  – which isn't leather at all, but the result of science mixing polyurethane to create a substance that looks, feels, and in all other aspects act like leather. The biggest bonus here, no poor animals were skinned to make a place for your sweaty backside.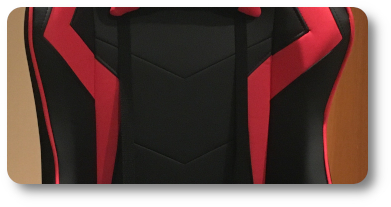 Comfortable? Check. The entire seat is filled with high-density foam that gives and forms to the contours of your posterior. This heavy-duty gaming chair can easily support an individual up to 400 lbs. and yet, will not groan, creak, or crack. Plus, you get a nice backrest and headrest. You don't see this kind of thought put into a seat unless you are riding first-class or possibly in the Space Shuttle.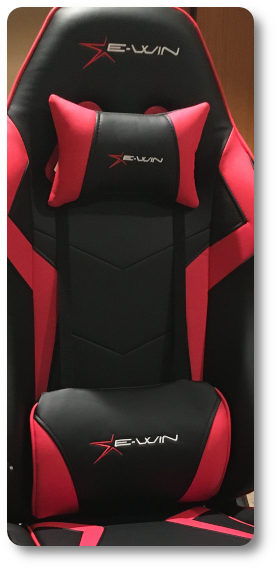 Multiple ways available to adjust the arms, height, and back? Check, check, and check. Armrests that can be adjusted to go sideway, backways, frontways, upways, and downways. All the ways, folks. The seat easily glides up and down, and the entire back portion of the seat can be tilted backward for sleepy time. This is where the previously mentioned headrest shines, I might add.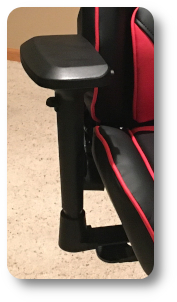 Uff, what a chair…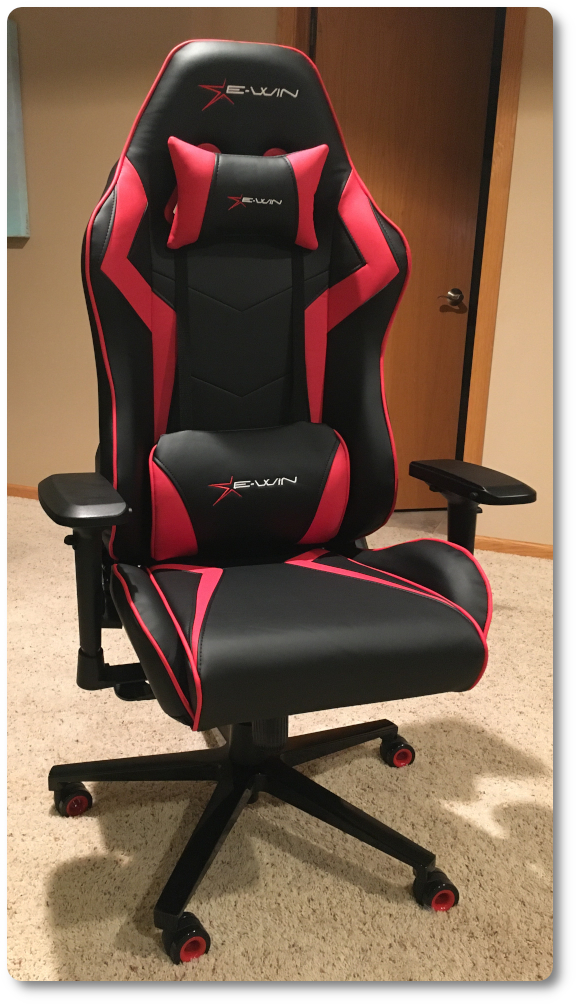 Final Thoughts

We put this chair through all our tests that we could think of, which pretty much was just about sitting down and then talking about how people felt about it. The Child Geeks who got to jump up on the E-WIN gaming chair liked to make it spin, swivel, and make noises that sounded a lot like gunfire and low-intensity laser blasts. According to one Child Geek, "The seat is cool looking and comfortable. I would sit in this all day, even in school." While we don't expect the Child Geeks to be experts in sitting down and keeping still long enough to contemplate their place in the universe, we were excited to see that our youngest groups genuinely enjoyed the chair. And it showed with everyone fighting for their chance to sit on it and lamenting their sad lot in life that they didn't also own one. Gold stars all around.

The Parent Geeks just looked at the chair, then the price tag, and followed it all up with raised eyebrows and a "Really?" in a sarcastic tone. The price for this chair is not what one should consider unreasonable, I suppose, but the Parent Geeks couldn't work their minds around the idea of a piece of furniture specifically designed for gamers. According to one Parent Geek, "A chair for gamers sounds like a con. It's a chair. A. Chair. How can you make a chair something more than just what we already have too many of in the house?" Good question and one we sought answers to. The Parent Geeks found the E-WIN gaming chair to be "fine." It did its job, was a joke among the non-gamers, and was generally approved of with some eye-rolling.

The Gamer Geeks were in love at first sight. The biggest and most boisterous of these gamers – my son – was eager to tell me how perfect their world now was since the chair came into his life. According to him, "Perfect chair. Big enough to make you feel like you are in a cockpit and durable enough for me when I get pissed and jump up or down. I like how you can make it tip back and adjust the pillows for your head and back. Felt great. Looks great. Great chair." My son – a teenager – is not a young man who spouts praise lightly. I should know; I'm his father and the target of sarcasm and teenage rebellion daily. I saw none of this and believe this is the most admirable chair he has ever had, which is excellent and makes me feel like a bad parent.

We didn't have much in the way of presumptions regarding what was offered. I mean, come on, folks, it's a chair. But the E-WIN Champion Series was nonetheless a surprise. A lot of thought was put into it, from the hub-less casters to the embroidered slogan at the very tippy top. What we were looking for was a chair that would be comfortable, fun to use. What we got was just that and a bit more.
I look over this chair several times, trying to find flaws, something to pick at, to suggest that the chair was just that and nothing more.
Nope.
Nothing.
Is the E-WIN heavy duty gaming chair 400 lbs for you? You only need to answer one question: do I sit down a lot? If you do, then yes. Get this chair. Contoured and sleek, comfortable and fashionable, it's a chair that demands your attention and gives all it can to ensure your comfort. So get yourself one, and when doing so, feel free to use code FatherGeek at checkout to get 30% off EwinRacing gaming chairs! Your butt will thank you.
This product was given to Father Geek as a review copy. Father Geek was not paid, bribed, wined, dined, or threatened in vain hopes of influencing this review. Such is the statuesque and legendary integrity of Father Geek.