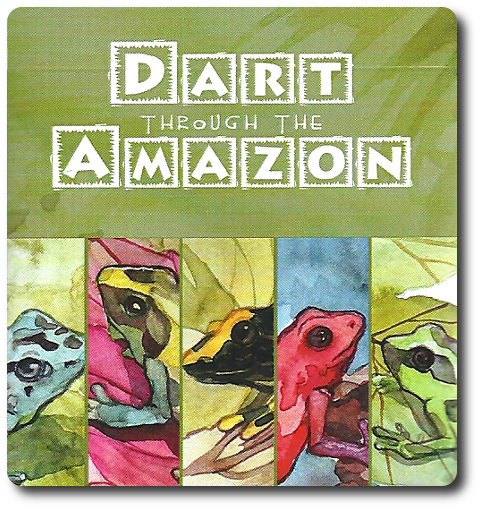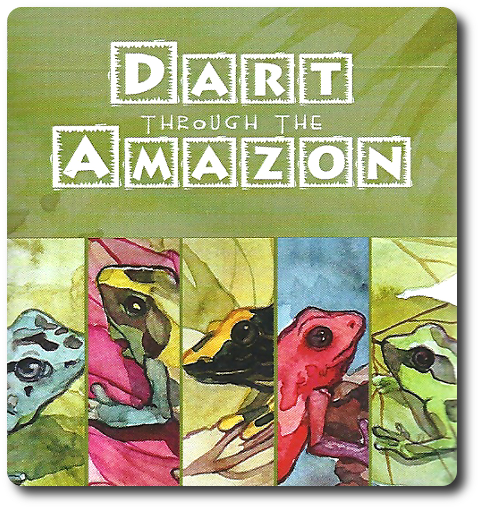 The Basics:
For ages 6 and up (publisher suggests 8+)
For 2 to 4 players
Approximately 30 minutes to complete
Geek Skills:
Counting & Math
Logical & Critical Decision Making
Reading
Memorization & Pattern/Color Matching
Hand/Resource Management
Learning Curve:
Child – Easy
Adult – Easy
Theme & Narrative:
Save an endangered species by collecting them as quickly as possible
Endorsements:
Gamer Geek rejected!
Parent Geek mixed!
Child Geek approved!
Overview
The Amazon jungle is over 2 million square miles and shrinking. Deforestation is taking its toll on the animals, birds, reptiles, fish, insects, and plants that call the Amazon their home. In this game, you are searching the jungle floor, waterways, and trees for the elusive Dart frogs. These amphibious creatures need your help, but first you have to find them.
Dart Through the Amazon, created by Richard Still, Sophia Still , and published by Mana Still Games via the Game Crafter, is comprised of 72 cards. The cards are as thick and as durable as your standard playing card. Artist Fatima Camiloza has done a beautiful job capturing the exotic beauty of the Dart frogs, making it easy to see which cards match and how unique these creatures truly are.
Into the Jungle
To set up the game, first separate the cards by their icon color found in the upper-left hand corner of each card's face. Create a card pile for each color. There are 6 colors in total. The black Frog icon represents the "Characters". Set aside the Characters at this time and return them to the game box.
Second, select 1 pile of cards per player in the game. For example, a 2-player game would use 2 piles and a 4-player game would use 4 piles. Any piles not used are returned to the game box.
Third, shuffle each pile of cards separately and place them face-down in a row and within easy reach of all the players. These are the draw piles for the duration of the game.
Fourth, each player selects a draw pile, looks through it until they find the first "Frog" card, and then reshuffles the draw pile, returning it to its face-down position. Each player, when completed, should have 1 "Frog" card in their hand.
That's it for game set up. Determine who will go first and begin.
Doing the (Poisons) Frog Hop
Dart Through the Amazon is played in turns with no set number of turns per game. On a player's turn, 1 of 2 actions must be taken. These actions are summarized here.
Draw One Card
The player selects a draw pile and takes the top-most card. If the card is a "Rock", "Vines", or "Snake", (representing the hazards of the jungle) the effect of the card is immediately resolved before the player continues their turn. Once resolved, the card is discarded into a pile with cards that match the Frog icon color. "Frog" cards are added to the player's hand.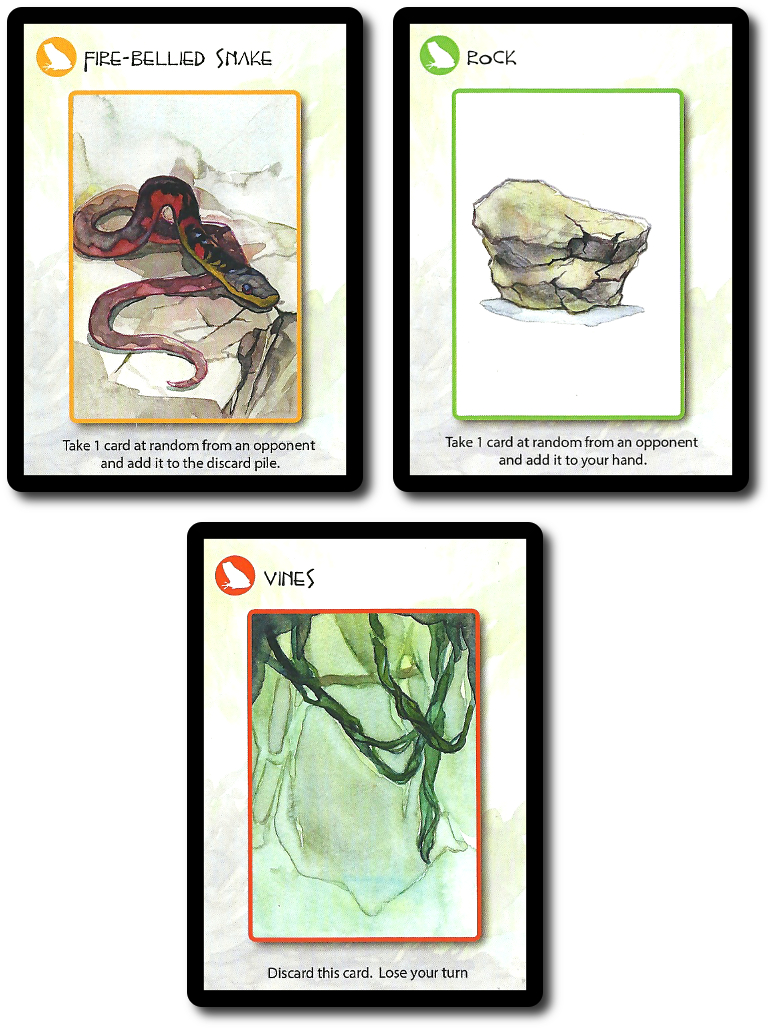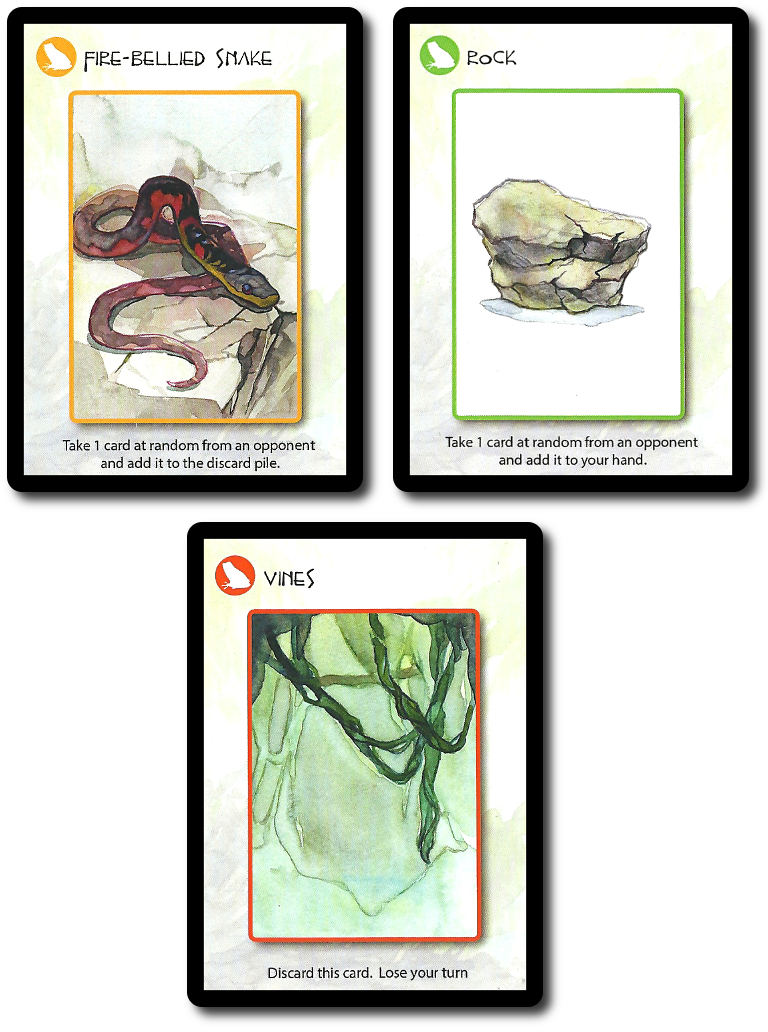 If a draw pile is ever depleted, shuffle the discard pile and place it face-down to create a new draw pile.
Score Frog Pair
A player can score a pair of "Frog" cards that are the same color or score 1 "Frog" of any color and 1 "Chameleon Frog", where the "Chameleon Frog" acts as a wildcard. Scored pairs are placed in front of the player and visible to all opponents. Some players believed this match represented a male and a female.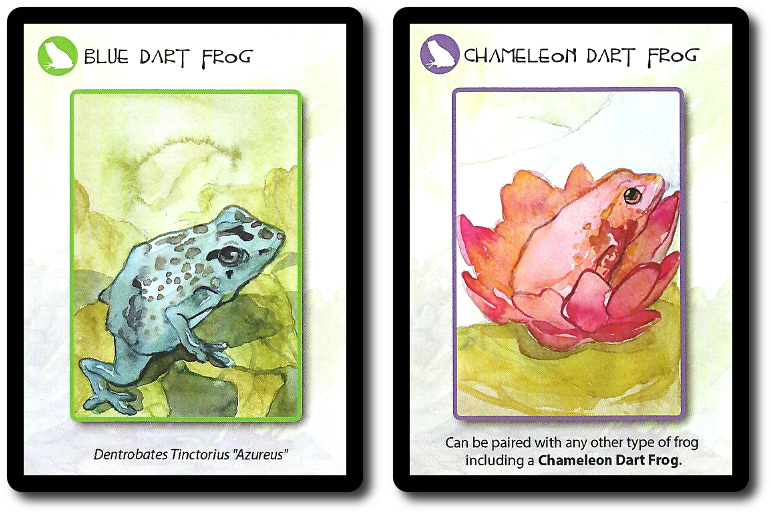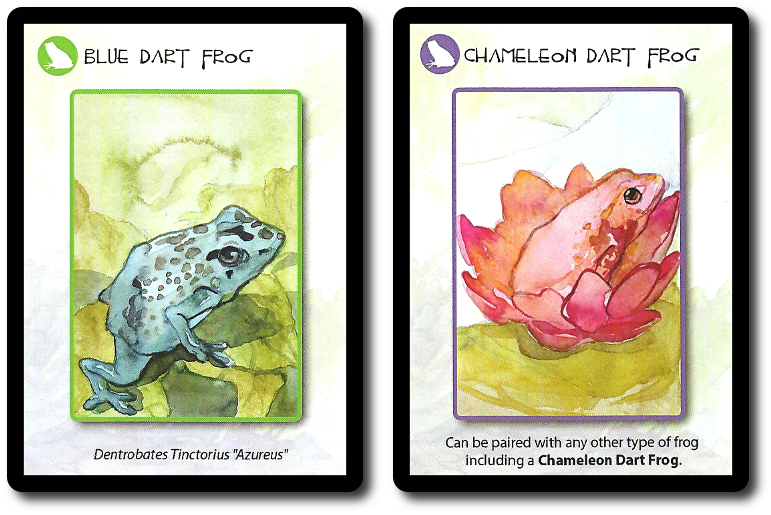 This ends the player's turn. If they have more than 4 cards in their hand, they must discard down to 4 cards now.
Triumphant in the Jungle
The first player to collect 4 pairs of cards wins the game.
Game Variant
The "Character" cards can be used to add additional depth and interesting wrinkles to the game play. During the game set up, each player is dealt 1 "Character" card at random. The "Character" card is placed in front of the player and remains so for the duration of the game.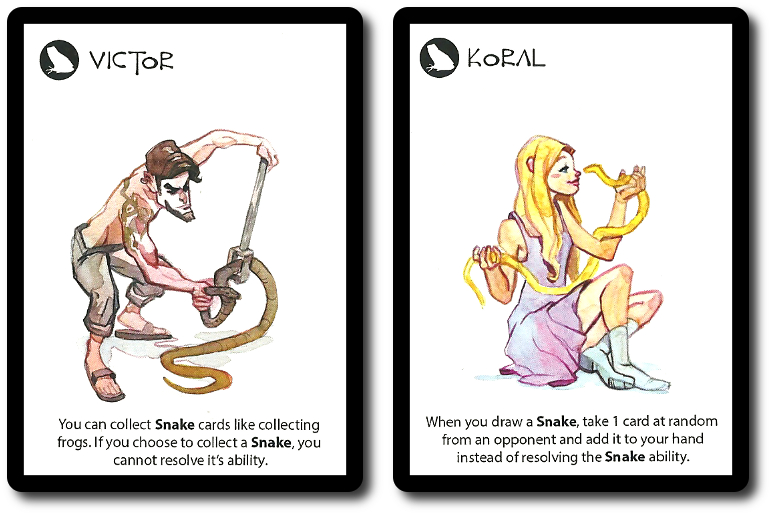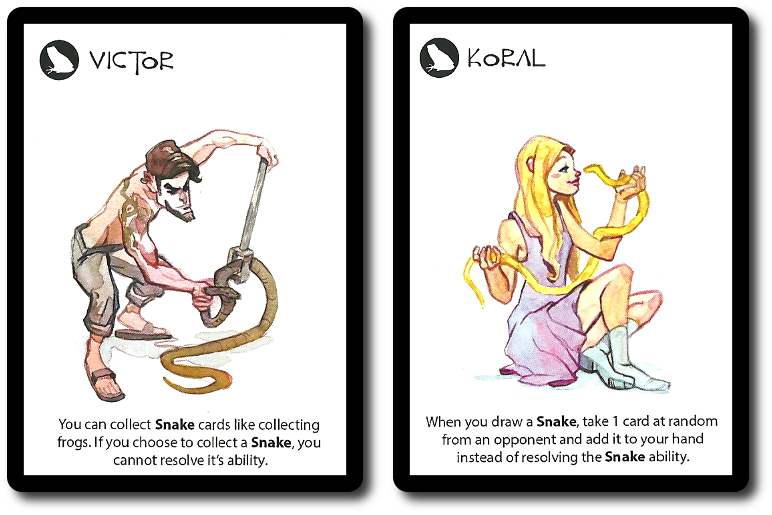 Each "Character" card gives the player a special ability. None of the "Character" cards provide a player with an effect that is unbeatable, but some "Character" cards will invite players to take more risks. Use of the "Character" cards is optional and does not effect how the game is won, but it will most certainly change how victory is obtained.
To learn more about Dart Through the Amazon, visit the game's web page.
Final Word
The Child Geeks liked the game, especially how the draw piles were organized. According to one Child Geek, "You know how many cards are in each pile and how many are in the discard piles which helps you make better decisions. It's still a guessing game, though." It can be, but according to one Child Geek, Dart Through the Amazon was a bit more. As they put it, "The game is as much about keeping your cards organized as it is memorizing what cards have been played." Certainly there is a memory aspect to be had, but none of the Child Geeks felt like the game was overly random or overly demanding of their mental energies. They didn't much care for the hazards, finding them to be more of a distraction than a game enhancer, and always prefered to play with the "Character" cards. When the games were over and all the frogs were safe, the Child Geeks voted to approve Dart Through the Amazon.
The Parent Geeks found the game to be a delight with their family, but sorely missing depth of play for adults. According to one Parent Geek, "Good game, but I didn't like it when I played it with other adults. Too easy and predictable, not to mention repetitive. It's best with kids and the family, I think." The majority of the Parent Geeks agreed and also highly suggested that the "Character" cards always be used. As one Parent Geek put it, "The Characters are very necessary. They take the game in a new direction that forces players to think slightly differently than their opponents." When everyone returned from the Amazon, the Parent Geeks gave the game a mixed level of approval. They gave it a standing ovation for the family, but set it aside as a game of little interest when it was just adults and experienced gamers at the table.
The Gamer Geeks found Dart Through the Amazon to be a good example of a game that they would never play, but had no negative feelings towards it. According to one Gamer Geek, "Look, I know everyone who reads your reviews thinks we are jerks, but it comes down to this. We like games that really challenge us and engage our minds. This game does none of that. That doesn't mean it's a bad game. It just means it's not a game for us." What the Gamer Geeks specifically didn't care for was the repetitive nature of the game play. Draw a card, make a match (or don't), and then discard if needed. Rinse. Repeat. The only hiccups were the hazards, but these only caused the player to temporarily pause their repetitive thinking. Which was found to be a godsend to some. The "Character" cards were praised to be a great way to change the game play, but did nothing to add game depth. The Gamer Geeks decided to reject the game, which came as no surprise. While they do not recommend it to their peers, they had nothing negative to say about the game other than it wasn't for them.
Dart Through the Amazon is very close to being something similar to a "gateway game". It introduces concepts that are not within the realm of your standard card game and focus on thematic elements to drive a player's decision making. Its simple rules and straightforward game play make it easy to teach and easy to learn, allowing groups to quickly get it on the table and enjoy a game or two. It's the game's simplicity, however, that turned off many of our more advanced players. Ultimately, the majority of our groups believed Dart Through the Amazon was a game you should play as early as possible on your journey through the board gaming hobby. Once you have enough experience, this card game becomes an item of little interest.
Which is not to say the game itself has no merit. Far from it. With the Child Geeks, Dart Through the Amazon was a huge hit. This was especially true with the younger Child Geeks. They would cheer and shout when they found a match, which is always great to see. Hazards didn't upset them, but you could feel the heat spike when a player was close to winning and their opponents raced to catch up. This game drew the younger players in and kept them happy.
A player can get a tremendous jump on their opponents in this game due to the luck of the draw. This was borderline inexcusable according to the Gamer Geeks, but since a player's victory is dependent on both luck and hand management, a player needs to inject a bit of memory to help offset any random outcomes. Players have choices to make in this game, as they do not draw from a single draw pile. They have multiple places to draw a card and keeping track of what is and is not in each pile will all but secure victory.
Overall I was very pleased with Dart Through the Amazon. The card game is solid, excellent rules, smooth game play, and delivers a rewarding gaming experience. Lack of overall depth and difficulty will turn off some, but will be a draw for others. This is a game perfect for the family gaming table and younger players. Do hunt down these frogs if you think it's a good match.
This game was given to Father Geek as a review copy. Father Geek was not paid, bribed, wined, dined, or threatened in vain hopes of influencing this review. Such is the statuesque and legendary integrity of Father Geek.