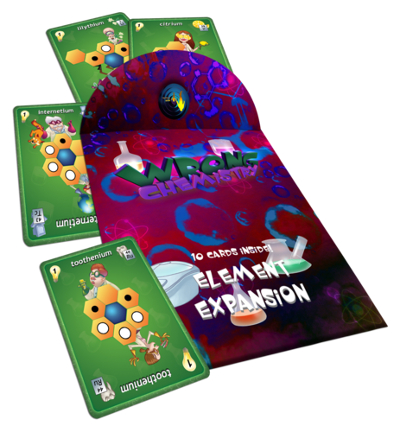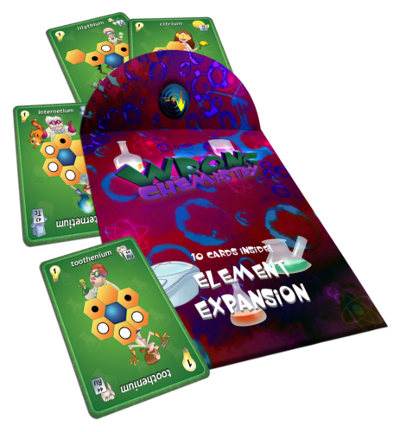 The Basics:
For ages 5 and up (publisher suggests 8+)
For 2 to 4 players
Approximately 30 minutes to complete
Geek Skills:
Counting & Math
Logical & Critical Decision Making
Pattern/Color Matching
Hand/Resource Management
Learning Curve:
Child – Easy
Adult – Easy
Theme & Narrative:
More elements to find means more points to score!
Endorsements:
Gamer Geek mixed!
Parent Geek mixed!
Child Geek approved!
Overview
Just when you thought you found all the elements and cracked the code of the universe, new elements are found! Time to return to the lab and see if you can duplicate the new elements and claim the title of "Top Scientist!"
Wrong Chemistry: Element Expansion, designed by Tony Cimino and published by Mage Company, is an expansion to the card game, Wrong Chemistry. The expansion is comprised of 10 new Element cards, all of which include the same illustrations and wacky element names found in the base game. The game component quality is equal to the base game components in every way. Note that it's assumed you are familiar with the base game. If not, please give our review a read or none of the following is going to make any sense to you.
To use the new Element cards found in the game expansion, simply add them to the base game's Element deck. Once they are added, there is no way to distinguish them from the base game's Element cards, which is fine as the expansion cards do not bring any new rules to the table. Put another way, there is no reason to remove them once they are included.
And that's it. Just make sure you want to use the expansion before you add it to the base game!
Final Word
The base game comes with 54 Element cards, which is a lot. It's perfectly possible that a player, having completed a large number of games, could start seeing the same Element cards. The expansion will certainly add a little bit of variety, but not much. The greatest impact that expansion will have is increasing the game's overall length of play, which might or might not be what players are looking for.
The expansion did nothing to improve the base game's endorsement levels with our three groups. The Child Geeks remained unchanged in their firm belief that Wrong Chemistry was a lot of fun to play. The Parent and Gamer Geeks saw the expansion as further proof of how entertaining or boring the game was to them. One Parent Geek who loves Wrong Chemistry said, "Neat! More Element cards!" A Gamer Geek who hates Wrong Chemistry said, "Gads! More Element cards!"
Is the expansion worthwhile? Totally depends on if you think Wrong Chemistry is too short or too long as it is. If you think the base game is too short and you want to add more variety and time available to play the game, jump all over the expansion. If not, leave it alone.
Personally, I'm all for adding a bit more to the game. I continue to enjoy playing it with my little geeks and the Parent Geeks I play it with warmly welcomed the expansion after I made them aware of it. Worth looking into if the game is already enjoyed, but don't expect the expansion to add any additional levels of complexity.
This game was given to Father Geek as a review copy. Father Geek was not paid, bribed, wined, dined, or threatened in vain hopes of influencing this review. Such is the statuesque and legendary integrity of Father Geek.