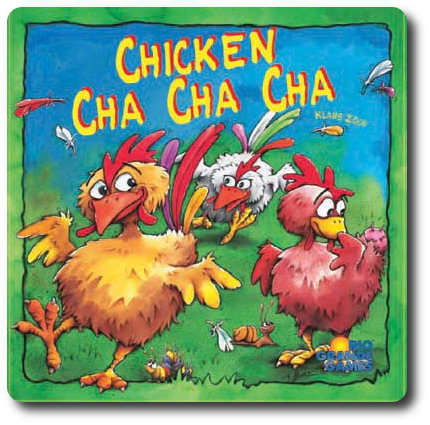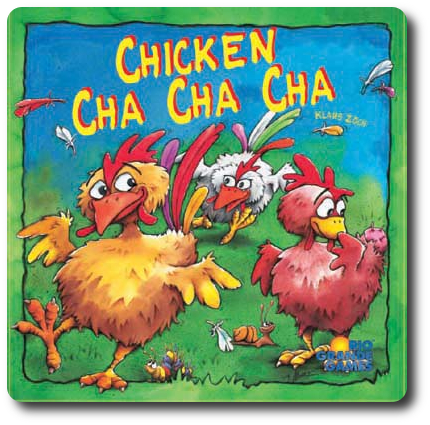 The Basics:
For ages 2 and up (publisher suggests 4+)
For 2 to 4 players
About 20 minutes to complete
Geek Skills:
Memorization & Pattern Matching
Emotional Coping Skills
Learning Curve:
Child – Easy
Adult – Easy
Theme & Narrative:
Endorsements:
Gamer Geek rejected!
Parent Geek approved!
Child Geek approved!
Overview
Chicken Cha Cha Cha is a children's game published by Rio Grande Games. This game allows children and adults to compete on a relatively equal footing and, in my opinion, is suitable for children aged up to 6 years.
Chicken Cha Cha Cha is a memory game in which wooden chickens (one per player), bearing tail-feathers (initially one per chicken), move around a circular path (comprised of 24 spaces, each bearing one of 12 images). In order to move one space forward, a player must select from another 12 face-down tiles, choosing the one whose image matches the space they wish to move into. On their turn, a player keeps moving their chicken forward until they turn over an incorrect tile. Thus, the identity of the 12 tiles becomes established after 3-4 rounds, and success after this depends on remembering which is which for the remainder of the game. If a player's chicken leapfrogs (leap-fowls?) another, they steal that chicken's tail-feathers. The winner is the one who steals all the tail-feathers. In other words, the one to lap everyone else first.
My children are very good at memory games, certainly better than their parents, which is not saying much. So they have certainly won their fair share of games between them. Since this is a winner-take-all style of play, though, it has led to tears (especially when tail feathers are lost). As I mentioned in a previous article, learning to lose with grace is an important life skill, and the topic has been discussed many a time as a consequence of this game. I am proud to report that both of my children have since learned that winning is not everything.
Final Word
This is a  fun game that is easy for non-gamers to pick up. The age ceiling of 6 years is perhaps ungenerous, since I have seen children as old as 12 years enjoying these games at conventions, but indicates the shelf-life in my own family. As far as the lower age limit is concerned, we have played Chicken Cha Cha Cha with my daughter since she was 2 years old. At one stage, this game practically lived on our gaming table, but it hasn't hit said table in a long time. Most likely due to other, somewhat deeper games being available that my children can now play. I imagine that this game might be played again if other children were to visit, though, because it is still appealing and entertaining.
Adults will find these games challenging, without requiring a big time commitment. I can vouch for the durability of the components – which remain in near-pristine condition although the box has almost fallen apart – and the bright colors and cartoon artwork continues to have great visual appeal. This is a game we shall be keeping in our library for the foreseeable future.