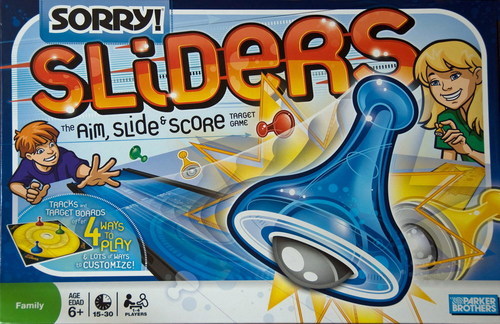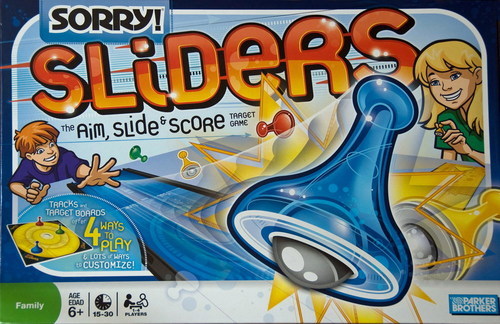 The Basics:
Ages 4 and Up
For 1 to 4 players
About 5 to 8 minutes to play
Geek Skills:
Counting
Hand/Eye Coordination
Emotional Coping Skills
Strategy & Tactics
Learning Curve:
Child – Easy
Adult – Easy
Theme & Narrative:
Endorsements:
Father Geek approved!
Child Geek approved!

Overview
Sorry! Sliders is essentially shuffleboard or curling. The players slide their game pieces down an alley that opens up to a common scoring area. The players jockey for scoring position by  bumping the other pieces out of the way or blocking paths. The scoring area is referred to as the "target board" which has expanding rings with different scoring values for each ring. The rings get gradually smaller the closer you get to the center of the target board, much like a Dart board. The ring worth the most points is located towards the center of the board, with the values decreasing as the rings expand outward.
The game pieces used to slide down the alley are large pawns in the shape as the original Sorry! game pawn, except they also contain a small marble located at its base. This marble allows the game piece to be pushed and slid down the alley, and eventually onto the target board. The only other game pieces are the scoring pawns which are much smaller versions of the original Sorry! game pawns.
The game board is modular allowing for a large number of designs. This allows for a wide variety in game play as well as the ability to adjust the difficult. For example, a board could be built with small alleys for each player or one very long alley for all players to use. There are also different scoring target boards available in the game that can reduce or increase the game's difficulty.
The goal of the game is to move all your scoring pawns to the "Home" space on the scoring board. This is done by taking the points you earn on the board and moving your pawns, one at a time, and only once per each score, until all pawns are safely home. The first one to do so wins!
Final Word
My boys and I love this game. Sliding the game pawns down the alley and having them smack the others is a very satisfying. But there is so much more to this game then simply sliding a pawn. So much more.
First, this game will really test your little geek's emotional coping skills. Even as an adult, I can't help but feel a little "put out" when my pawn gets smacked by another and goes flying off the board. Prepare yourself for shouts of glee and groans of despair.
Second, there is a good deal of strategy to the game. Your younger little geeks will be able to play the game just fine by sliding their pawns at random. For your older little geeks, they'll begin to realize there is more to it then simply sliding the pawn hard and fast. Position is everything as it not only determines how the pawns score, but also how they block opponent's pawns from scoring. It only took a few games before my oldest son started to protect his high scoring pawns with a wall of his other pawns. I was so proud…
Third, the game board is amazing. Everything about it can be adjusted and changed. The alley can be increased in length forcing the players to have a harder, less controlled slide or shortened which requires the players to focus on their finesse and "soft touch". There are also bumpers you can attach to the board to cause a good deal of ricochet action which can be a lot of fun and add yet another level of strategy and tactics to the game. Regardless, you'll be using a great deal of hand/eye coordination to determine how best to physically move the pawn. This can be stressful at first until your little geek gets into a groove and has a good feeling of how the pawns work.
Fourth and finally, when scoring the game your little geeks will need to make some interesting choices. You do not add all the points together when counting your score to determine the scoring pawn movement. Rather, you move one pawn per scoring sliding pawn. It is a 1:1 match. For example, if you have a sliding pawn that scored a "3", you can choose to move one of your pawns 3 spaces up the track to the "Home" space. It is very important to note that your pawns movement into the "Home" space must be exact. This means if your pawn is exactly 2 spaces away from the "Home" space, you will need to have two sliding pawns in the "1" scoring space or one sliding pawn in the "2" sliding space. By requiring the pawns to move by exact count and being tied to one sliding pawn each, this creates a complex counting and decision making requirement before the player's turn, during the player's turn, and after the player's turn.
Pure awesome.
I simply love this game and was absolutely surprise how great it is to play and  received by my sons. Best of all, this game is cheap. Don't expect to pay anymore than $20 for this game. In fact, if you do, you are being robbed!
Long story short, slide over to your friendly local game store (be it physical or online) and purchase this game when you can. Little and big geeks alike won't be disappointed.