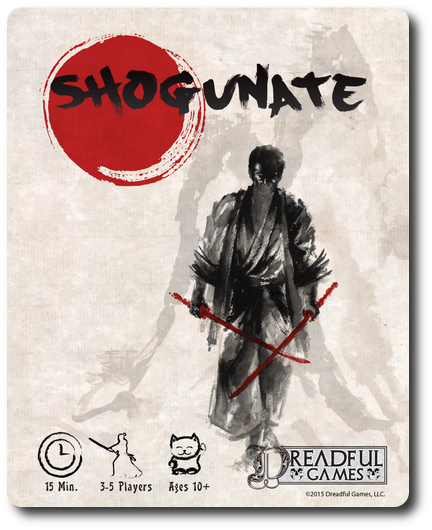 Father Geek, in cooperation with Dreadful Games, is very pleased to offer GEEKS IN THE UNITED STATES an opportunity to WIN 2 COPIES of Shogunate!
Here is what the publisher has to say…
We at Dreadful Games are excited to bring you Shogunate. Our vision for the game is a light filler, perfect for gamers or families, that takes minutes to teach and learn but has a hearty, meaty center. We hope it will be a handy pocket game you carry with you and play whenever you have the 10-15 minutes it takes to slice out a game.

The object of Shogunate is to have your leader named Shogun by ending the game at the front of the line of succession. Through your actions, you will strive to block and eliminate other clan leaders, while maneuvering your leader to a place of advantage.
The game is fast and offers its players an opportunity to test their skills in subtle manipulation, card management, bluffing, and deduction. All the necessary skills to rise in power! Players will be guessing to the very end, making each move a stab in the proverbial dark. We've played the game many times and enjoyed it. Read our review to learn more.
Rules and Such
Let's get to the fun part; the giveaway! To participate, you must complete at least the mandatory entry requirements below, but your odds of winning can be improved (greatly) if you complete all of the entry items and any daily entry requirements. Up to you, folks. Play the odds or do all that you can to beat them!
This contest will end on April 27 12:00 AM CST. No additional entries will be counted after this date and time.
This contest is available to GEEKS IN THE UNITED STATES ONLY. Sorry, rest of the world.
TWO winners will be selected at random using Rafflecopter and contacted via email. The winners have 48 hours (2 days) to respond. If the winner's email is incorrect or they do not respond within 48 hours, another winner will be selected. If a winner is selected, and their entries are found to be fraudulent, they are automatically removed from the list, are dead to me, and another winner will be selected. You cheat, you lose.
The winners will be announced here.
GOOD LUCK!
(Note: If the giveaway does not display below, please refresh the page. The service I am using sometimes has "issues".)