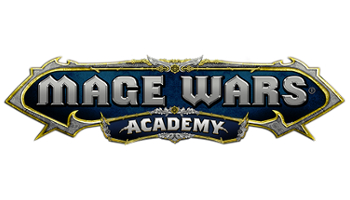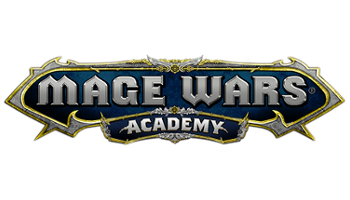 Father Geek, in cooperation with Arcane Wonders, is very pleased to offer GEEKS IN THE UNITED STATES an opportunity to WIN 2 COPIES of Mage Wars Academy!
We've played Mage Wars Academy and everyone loved it. Read our review of the game to get our take on this fantastic fantasy card game. Here is what the publisher has to say…
Mage Wars® Academy introduces an entirely new, stand lone game to the exciting Mage Wars® universe of Etheria.  Similar to Mage Wars® Arena, players will take on the role of dueling Mages, attempting to use their cunning, wit, and tactics to defeat their opponent by reducing their life to zero. Completely different from Arena though, Academy is played without a board, in a much faster time (matches range from 20-30 minutes) and yet still offers strategic choices, tactical combat, and exciting game play.
Excited? I bet you are and this game could be yours, for free, if you want to play along. I'm not wizard, but I can certainly tell the future. Two lucky people are going to get a copy of this game and one of them certainly can be you.
Rules and Such
Let's get to the fun part; the giveaway! To participate, you must complete at least the mandatory entry requirements below, but your odds of winning can be improved (greatly) if you complete all of the entry items and any daily entry requirements. Up to you, folks. Play the odds or do all that you can to beat them!
This contest will end on January 1st 12:00 AM CST. No additional entries will be counted after this date and time.
This contest is available to GEEKS IN THE UNITED STATES ONLY. Sorry, rest of the world.
TWO winners will be selected at random using Rafflecopter and contacted via email. The winners have 48 hours (2 days) to respond. If the winner's email is incorrect or they do not respond within 48 hours, another winner will be selected. If a winner is selected, and their entries are found to be fraudulent, they are automatically removed from the list, are dead to me, and another winner will be selected. You cheat, you lose.
The winners will be announced here.
GOOD LUCK!
(Note: If the giveaway does not display below, please refresh the page. The service I am using sometimes has "issues".)
CONGRATULATIONS TO OUR WINNERS!
The two selected winners, each receiving a new copy of Mage Wars Academy, are as follows:
Thank you for joining us! More contests to come!